Magnetic Sheeting - Self Adhesive - 0.6mm x 620mm x 15m ROLL (Contact our Office for 30m Rolls)
Product code: 59049/15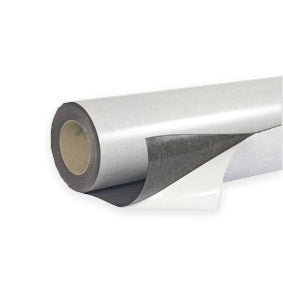 $339.25
buy 5 to 9 items
and
save 11%
$304.75
buy 10+ items
and
save 20%
Australia's Leading Supplier
Magnetic Sheeting - Self Adhesive - 0.6mm x 620mm x 15m ROLL (Contact our Office for 30m Rolls)
Style
Magnetic sheeting self adhesive
Direction of Magnetisation
Magnetised on the brown side only
Dimensions
Thickness:0.6mm, Width:620mm, Length:15 metres
Self-adhesive Magnetic Sheets Product Description:
This self adhesive magnetic sheeting roll has a width of 620mm and a thickness of 0.6mm. The roll comes in a length of 15 metres. Adhesive side is non-magnetic. Constructed from Strontium or Barium ferrite powder within a polymer matrix, this self-adhesive magnetic sheeting is manufactured to provide good demagnetization resistance & reasonable resistance to chemical agents. Identified by the Amf magnets part number 59049/15.
Uses for our self-adhesive magnetic sheeting:
Do you have a brand? Do you need architectural brand development? If you answered yes, you may be well served by a 15 or 30 metre roll of this self-adhesive 620mm wide magnetic sheeting.
Brand builders will build your brand using four strategic arms to do it, engaging magnetic sheeting with each arm in order to fulfil their promise. In the first phase, STRATEGY, a magnetic work wall or white board is used as a drawing board. Signs, photographs, fabrics and colours, symbols, phrases, images and ideas and concepts, every possible describable part of your business and operation is identified and represented by an individual item or artefact. The back of each of these forms or segments is fastened with the protected, peel away, paper backed self-adhesive surface of a segment of magnetic sheet.
In turn, each thus equipped artefact representing ideas about your business or activity is suspended on a large magnetised surface. Creatives gather around the magnetised drawing board as if for an old fashioned sing along. Brand building with magnetic cling is dynamic. Brand building with magnetic cling is real, tactile like the brand will be.
Magnetic cling allows these materials to be suspended, shuffled, deleted, debated, and repositioned as the architecture of the brand is assembled under intense scrutiny. You will know when magnetic cling has worked its magic. A synthesis has arrived. A frozen, chosen, tableau securely held with magnetic grab. Behold. A STRATEGY. Your brand.
NB: Ranges are indicative for product category, please check individual products for specic values within that range.
NB: Ranges are indicative for product category, please check individual products for specific values within that range.