Neodymium Block Magnet - 50mm x 50mm x 50mm
Product code: 22003B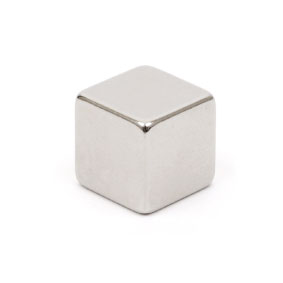 $322.78
buy 10 to 99 items
and
save 17%
$226.34
buy 100+ items
and
save 42%
Australia's Leading Supplier
Neodymium Block Magnet - 50mm x 50mm x 50mm
Style
Neodymium square Block magnet
Direction of Magnetisation
Magnetised through the 50mm height/thickness
Dimensions
Width:50mm, Height:50mm, Length:50mm
*Measured against up to 10mm mild steel.
Magnetic Product Description:
This is 50mm square magnet, 50mm in length, width and height. It has a magnetic flux reading of 5754 Gauss and a pull strength of 147 kilos against 5mm mild steel and a coating of nickel. It is an N42 grade neodymium magnet.
Uses for our rare earth block magnets:
Mechanical engineers designing material handling systems for sectors including agriculture, mining, and manufacturing need to be inventive and adaptable. A client's needs in relation to handling bulky, heavy, sometimes sensitive materials can vary from business to business, sector to sector.
Bulk materials, minerals, foodstuffs, liquids and powders undergo numerous transportation and processing stages. At each turnover point industrial scale gates, hose couplings, doors, lids and vents need to be activated, often just by one person. These moving parts are enabled with intuitive, pull force open, and certain, soft close closure, with the deployment of powerful block magnets.
The ultimate in renewable energy, these permanent magnetic cubes require no external energy source like electricity or batteries. They instinctively fasten, and release on command, at a pre-determined quit force. Over and over again. This method of fastening and unfastening components resists corrosion and increases the durability of moving components by graduated, regulatory or intuitive control of the open and close protocols.
These magnetic squares are used as an industrial fastener of first resort. Neatly secure moving sections for positioning of slide bolts, hooks and chains. Magnets, including these very powerful cubes, are deployed to enforce the smooth expression of mechanical (force and movement) power.
The method, the reasons, the benefits are the same. Ease of use, affordability, reliability, longevity. Only the scale and scope changes. These models tip the scales at only 925 grams. These blocks offer a brute pull strength of 147 kilograms. That's quite a bit of scale. And scope.
Water conditioning, mining, industrial applications galore.
Warning:
This block magnet is extremely powerful, handle with great care as serious injury can occur.
NB: Ranges are indicative for product category, please check individual products for specic values within that range.
The most common coating for Neodymium magnets is Nickel + Copper + Nickel (Ni + Cu + Ni). This coating offers the magnet relatively good protection from corrosion and passive applications. If the magnet will be exposed to moisture or liquid then consider the use of an organic coating such as Epoxy. A hard wearing coating, Epoxy is suited to applications where the magnet will come under some friction or knocking.
Magnets are readily available in Blocks, Discs, Cylinders & Rings. AMF Magnetics specializes in the supply of short-run prototype magnets including Arc Segments, various magnetic orientations etc. If you need a magnet size that we don't carry in stock, submit a Design-a-Magnet enquiry for a quote on your custom magnet design.
Neodymium magnets are offered in several different grades. The first section N30-54 has an operating temperature of up to 80 degrees. Most of our stock only goes up to N38. The second section, denoted with the "M" prefix after the grade has an operating temperature 100 degrees. After this the grades are "H", "SH", "UH" & "EH". In order for the magnet to withstand a higher operating temperature, during production more of the raw material PrNd is incorporated as these elements have a naturally occurring resistance to high temperatures.