Non-Adhesive Magnafix Magnetic Tape - 12.5mm x 1.6mm | PER METRE | Supplied As Continuous Length | PART B
Product code: 59062BM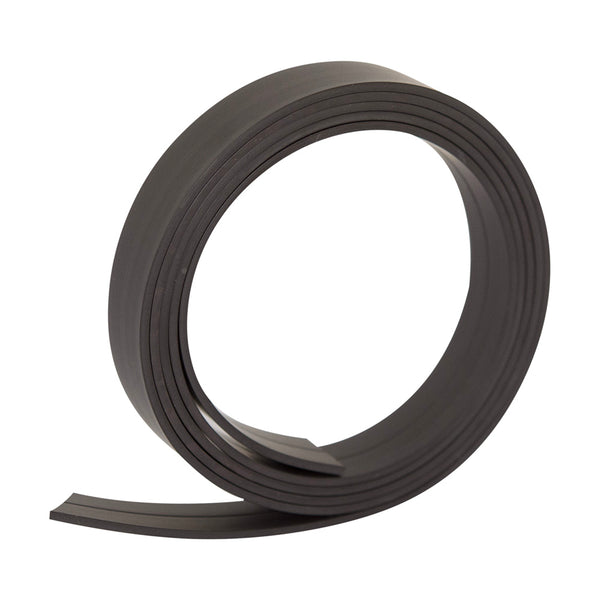 Australia's Leading Supplier
Non-Adhesive Magnafix Magnetic Tape - 12.5mm x 1.6mm | PER METRE | Supplied As Continuous Length | PART B
Style
Magnafix Non-Adhesive Magnetic Tape (Part B)
Direction of Magnetisation
Magnetised on the Non-Adhesive Grooved Side (Part B)
Dimensions
Thickness:1.6mm, Width:12.5mm, Length:PER METRE
*Measured against up to 10mm mild steel.
Magnetic Product Description:
This Magnafix Non-Adhesive Tape has a width of 12.5mm and a thickness of 1.6mm. It is identified by the AMF Magnetics part number 59062BM.
Please note: This is a per metre product, however, orders with a quantity greater than 1 will come as a continuous length (ie. purchasing 3 of this product, will come as a 3-metre length of 59062BM). If you wish to receive your order in 1-metre lengths please include the note "CUT TO METRE LENGTHS" at the checkout when processing your order.
This product is not recommended for use with large sheets of perspex thicker than 6mm.
Click here for our Magnafix Directions of Use.
Uses for our Magnafix Magnetic Tape:
Wherever you see a real estate agent tapping on their smart phone chances are they have entered the words 'magnetic strips Bunnings' into their search engine for yet another sign.
The ease of use of non-adhesive magnetic tape, including 12.5mm wide, 1.6mm thick and available in economical rolls of 30 metres, allows many real estate professionals to assemble their own signs. The constantly changing content, position and number of their signs makes this self-reliance a virtual necessity.
Signs keep working when you clock off, and real estate sales professionals know only too well it pays to advertise. Real estate agents use magnetic strip tape, strong, flexible, self-adhesive or non-adhesive and able to be cut with scissors or a sharp blade as a fixing or joining agent in a wide variety of signs of all kinds. These include extensive shop window displays, light box assemblies, portable sandwich boards and signs fixed to the front of properties or onto company vehicles.
This versatile, safe and secure, reliable and removable method of attachment allows for the simple replacement or addition of material to existing signs and imposes the minimum material penalty to surfaces to which it is attached to.
As a hidden or secret fixing system magnetic strip tape presents the property with the minimum of fuss and the maximum attention to the real estate itself. Resistant to corrosion, unaffected by high or low temperatures and moisture friendly, take if from professionals who live or die by the effectiveness of their signs and displays. These professional know the signs. They stick with permanent and removable non adhesive magnetic strip tape.
Magnafix matched pole magnetic tape provides a high quality solution for fixing and joining of graphic elements to either a magnetic or non-magnetic surfaces. Magnafix is magnetic on one side of the tape.
Flyscreens without a frame will require extra adhesive to bond, or product will fail.
NB: Ranges are indicative for product category, please check individual products for specic values within that range.
NB: Ranges are indicative for product category, please check individual products for specific values within that range.