A3 Matte White Inkjet Printable Magnetic Paper | 420mm x 297mm x 0.26mm
Product code: 59170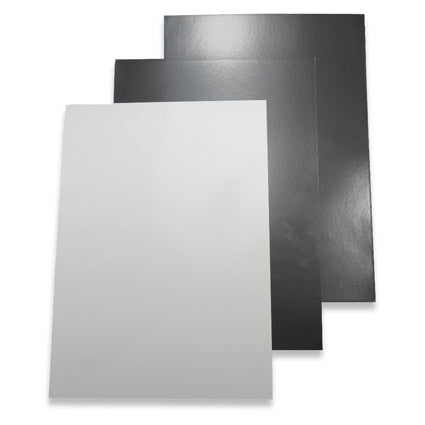 $5.75
buy 10 to 99 items
and
save 16%
$4.49
buy 100+ items
and
save 34%
Australia's Leading Supplier
A3 Matte White Inkjet Printable Magnetic Paper | 420mm x 297mm x 0.26mm
Style
A3 Matte Inkjet (1 per pack)
Direction of Magnetisation
Magnetised on back only
Dimensions
Thickness:0.26mm, Width:297mm, Length:420mm
Magnetic Product Description:
This A3 Matte Magnetic Sheet (1 per pack) has a length of 420mm, a width of 297mm and a 0.26mm height. It is identified by the AMF Magnets part number 59170. Please note: this product sold per sheet and is not compatible with all inkjet printers. ie. Canon Pixma iP4200.
Uses for our A3 Matte Inkjet Magnetic Sheet:
Our printable magnetic paper & sheets are great for creating signs at home, workplace or warehouse. Simply place the magnetic printable paper into your inkjet printer – and create! You can print any magnetic sign you like. It can easily be cut with scissors or Stanley knife to create any shape or size you require. Adheres well to all metallic surfaces like Brownbuilt furniture, metal whiteboards and steel shelving.
'Slippery When Wet'. 'Poison'. 'Wrong Way. Go Back'. Let's face facts. Signs have saved humanity a lot of unnecessary grief. Likewise, signs in the workplace are important. To demonstrate due diligence and duty of care making your own signs and notices to suit your own needs makes sense. It is now easy and affordable with common communication tools like smart phones, scanners, inkjet printers and magnetic paper for suspension to all metallic surfaces.
Suspending user designed signs with magnetic paper is easy and quick. Safe and secure with magnetic cling, signs affixed in this manner are permanent yet easily removable and reusable.
Workplace injury problems and public liability issues can be reduced with an appropriate sign in the right place. To the old adage, 'A stitch in time saves nine', let me add my own to managers liable to compensation claims relating to health and safety issues in the workplace, 'A sign in time is a fine sign rhyme'. Designing your own business cards, labels, greeting cards, decorative items and signs for home or work, in motor homes, caravans, and marine craft for suspension using the agency of magnetic paper to metallic surfaces is an individual touch in a world that is returning to traditional values.
Personal service, authenticity, accountability and good manners never go out of style, or not for long. An original design imbued with the nature of the way you do business is brand building within everyone's reach thanks to the do it yourself digital age.
To learn more about how to use this product, watch the latest video on our Youtube Channel