Alnico Block Magnet - 50mm x 15mm x 10mm
Product code: 45030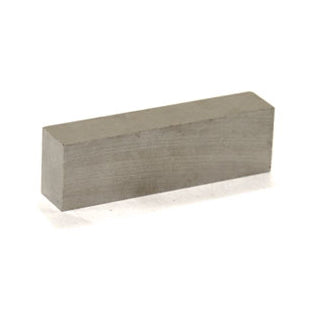 $16.04
buy 10 to 99 items
and
save 14%
$14.46
buy 100+ items
and
save 23%
Australia's Leading Supplier
Alnico Block Magnet - 50mm x 15mm x 10mm
Style
Alnico Block Magnets
Direction of Magnetisation
Axially magnetised thru the 10mm
Dimensions
Thickness:10mm, Width:50mm, Length:15mm
*Measured against up to 10mm mild steel.
Magnetic Product Description:
This alnico block magnet has a length of 15mm, a width of 50mm and a 10mm thickness. It is identified by the AMF magnets part number 45030.
Uses for our alnico block magnets:
Alnico magnets are helping the modern world stay modern, one block magnet at a time. Modest to a fault, these magnets play a starring role in many devices that people love. Direct current motors are literally everywhere in the built environment.
Small versions of DC motors power many tools, toys and appliances like refrigerators and washing machines. Larger DC motors produce propulsive energy to shift electrical vehicles, elevators and hoists. These reliable motors convert electrical current, or direct current (available by plugging into the mains power grid or generated by portable diesel or petrol motors), into mechanical power (force and movement) via the agency of magnetic fields.
The widespread availability of affordable household appliances and power tools mean people the world over have access to the convenience of these devices and are liberated from the tedium of washing clothes and performing many other laborious tasks by hand.
Alnico block magnets are employed in sensors measuring just about anything and everything including temperature and pressure in delivering goods we care deeply about like food. Alnico block magnets put to work in audio systems control unwanted sound so people can listen to their favourite music in high fidelity.
Magnetic tape arriving in the 1930's, a not so distant cousin of alnico block magnets, made possible the idea of the recording artist. An artist could record their performance once on a magnetic tape to be reproduced many times over at the same fidelity.
Our alnico block magnets, also called bar magnets, are often used in educational facilities from primary school through to post-graduate work in a wide range of experimental applications.
NB: Ranges are indicative for product category, please check individual products for specic values within that range.
Alnico is most commonly produced by a Casting process. A key feature of Alnico magnets are their high temperature operating limits.