Alnico Block Magnet - 75mm x 15mm x 10mm
Product code: 45060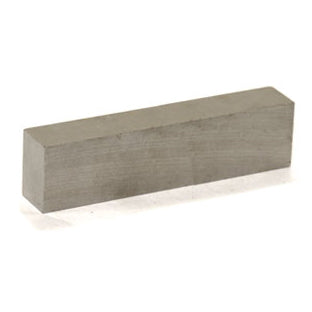 $18.72
buy 10 to 99 items
and
save 18%
$16.74
buy 100+ items
and
save 26%
Australia's Leading Supplier
Alnico Block Magnet - 75mm x 15mm x 10mm
Style
Alnico Block Magnets
Direction of Magnetisation
Axially magnetised thru the 10mm
Dimensions
Thickness:10mm, Width:75mm, Length:15mm
*Measured against up to 10mm mild steel.
Magnetic Product Description:
This alnico block magnet has a length of 15mm, a width of 75mm and a 10mm thickness. It is identified by the AMF magnets part number 45060.
Uses for our alnico block magnets:
Appearances can be deceptive. In a world where everyone wants to be the boss, the skilled worker who can turn their hand to whatever needs doing is becoming more valuable by the year. What these alnico block magnets lack in self-promotion is more than made up for with their versatility and usefulness.
The unheralded foot soldiers of the magnet family, alnico blocks fill the breach in many devices and appliances that the modern world takes for granted. Many power tools and appliances like refrigerators and washing machines rely on the magnetic fields generated by alnico block magnets. A dc motor containing alnico block magnets are able to convert electrical current (direct current) into mechanical power, which is defined by force and movement.
Alnico magnets live in many useful instruments like sensors that monitor the temperature, pressure and volume of almost anything that everyone loves including food and beverages. Alnico block magnets graduated, intuitive push and pull force allows component parts of sensors to move and register variations in a smooth, predictable expression of regulatory power.
Housed in many audio devices, alnico blocks harmonise and help to modify and amplify audio signals. Deployed in loud speakers, magnets help to improve the signal, (wanted sounds), to noise, (unwanted sounds) ratio. Thanks for everything alnico block magnets.
NB: Ranges are indicative for product category, please check individual products for specic values within that range.
Alnico is most commonly produced by a Casting process. A key feature of Alnico magnets are their high temperature operating limits.