Alnico Rod Magnet - 5mm x 20mm
Product code: 44030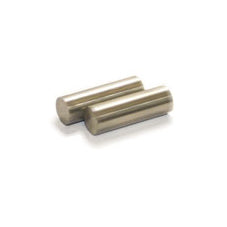 $10.70
buy 10 to 99 items
and
save 14%
$9.64
buy 100+ items
and
save 23%
Australia's Leading Supplier
Alnico Rod Magnet - 5mm x 20mm
Coating
Natural (uncoated)
Direction of Magnetisation
Axially magnetised
Dimensions
Height:20mm, Diameter:5mm
Magnetic Product Description:
This Alnico rod magnet has a diameter of 5mm and a height of 20mm. It is identified by the Amf magnets part number 44030.
Uses for our alnico cylinder magnets:
Alnico cylinders are deployed in a wide variety of sensitive and highly accurate industrial meters, valves and gauges in industry and manufacturing. These gauges measure the volume of liquid, powder, grain and mineral flows as well as the temperature and pressure of the goods and the vessels housing them. Sensors controlled with the assistance of these alnico magnets can help detect stresses in dam walls, grain silos and the hulls of cargo ships.
Alnico magnets also find their way into instruments that produce the sound of music and other audio effects. These magnets, in conjunction with other magnets and magnetic assemblies are used to regulate, modify and or amplify sound or audio recordings.
Alnico magnets are often installed in the pick-up devices on instruments like guitars.
When struck, the strings on these instruments vibrate within the confines of the magnetic field generated by the magnets housed close to the struck strings.
The magnetic field fluctuates at the same frequency as the struck strings, and is expressed as amplification through a speaker box or chamber. Other magnets are usually deployed in these chambers to help control the signal to noise ratio. This ratio, signal to noise, is used in science and engineering as a measure that compares the level of a desired signal (useful audio information) to background noise (unwanted audio information).
The predominant use of Alnico magnets is for use as sensors. Also used for specialist engineering applications. Ideal where high temperature resistance is required.
NB: Ranges are indicative for product category, please check individual products for specic values within that range.
Alnico is most commonly produced by a Casting process. A key feature of Alnico magnets are their high temperature operating limits.