Alnico Rod Magnet - 8mm x 24mm
Product code: 44070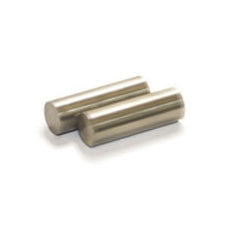 $12.08
buy 10 to 99 items
and
save 13%
$10.81
buy 100+ items
and
save 22%
Australia's Leading Supplier
Alnico Rod Magnet - 8mm x 24mm
Direction of Magnetisation
Axially magnetised
Dimensions
Height:24mm, Diameter:8mm
Magnetic Product Description:
This Alnico rod magnet has a diameter of 8mm and a height of 24mm. It is known by the Amf magnetics part number 44070.
Uses for our alnico cylinder magnets:
Modern joinery and cabinetry techniques have joined the modern age and they have brought these alnico magnets with them. Magnets deployed in kitchens and bathrooms and cabinetry elsewhere in the home and industry enable tradespeople to construct seamless looking assemblies deploying magnets as connective tissue.
Joining different materials is enabled by embedding magnets in component sections in the factory, whether the material is timber, stone, ceramics, glass or plastics. This method allows fabrications to be assembled on-site or in situ for maximum flexibility. An intuitive and reliable magnetic pull or release at a pre-determined cling force enables simple assembly and disassembly for cleaning and servicing and re-positioning if required with no material or spoiling penalty to surfaces joined in this manner.
Intuitive open and soft close functions on doors and drawers are made possible with alnico magnets graduated and predictable pull and push force.
Housed in sensors in the form of meters, gauges and valves alnico magnets control and regulate component parts of these vital monitoring devices measuring the contents, temperature and pressure of goods and the vessels containing them. These vessels include container ships, dams and grain silos, bridges and machinery and equipment that industry in the modern age relies on to deliver the goods and services that people require in a safe and secure manner.
Used for general engineering applications. Perfect for use where mechanical strength is important and high temperature resistance is required.
NB: Ranges are indicative for product category, please check individual products for specic values within that range.
Alnico is most commonly produced by a Casting process. A key feature of Alnico magnets are their high temperature operating limits.