Electromagnet - 60mm (65kg Breakaway Cap)
Product code: 89040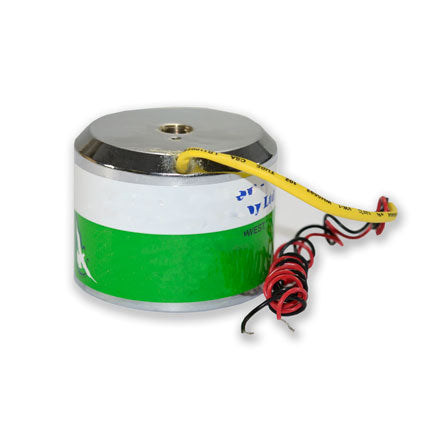 $259.77
buy 10 to 99 items
and
save 11%
$234.03
buy 100+ items
and
save 20%
Australia's Leading Supplier
Electromagnet - 60mm (65kg Breakaway Cap)
Magnetic Product Description:
Our 60mm electromagnet with a 65kg breakaway cap uses DC power and is built by wrapping many coils of wire around a ferromagnetic core. When electricity flows through a conductor an electromagnet is created with the magnetic field around the conductor.
Click here for this product's technical specifications.
Uses for our Electromagnet:
The Stubby Electromagnet will operate over a range of voltages and is effective between 2 and 32 Volts D.C. Typical applications include automation, sheet handling, welding jigs, fire doors and air-conditioning smoke shutters. This Electromagnet is suitable for continuous duty up to 32 Volts. Some current drop will occur at higher voltages and temperatures. The most significant factors affecting the performance of the magnet will be the thickness of the steel being lifted and the surface condition of the steel.
100%
of reviewers would recommend this product to a friend
Uniyt as Described
Unit received as Described,