Ferrite Block Magnet - 100mm x 100mm x 12.7mm
Product code: 12013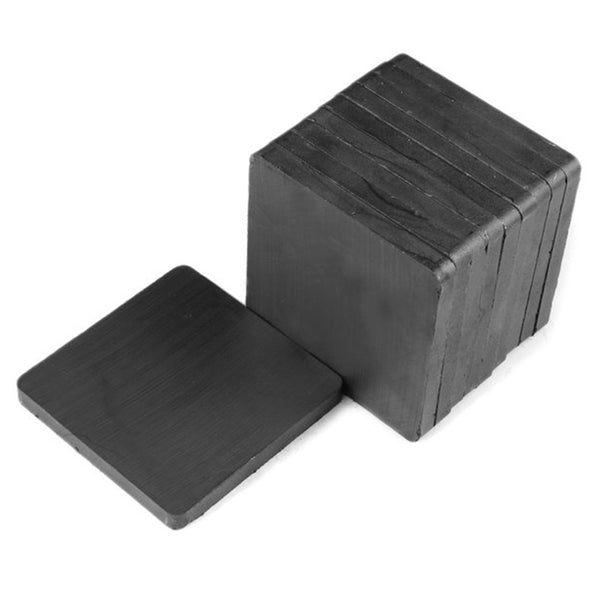 $31.63
buy 10 to 99 items
and
save 23%
$25.30
buy 100+ items
and
save 38%
Australia's Leading Supplier
Ferrite Block Magnet - 100mm x 100mm x 12.7mm
Style
Ferrite block magnet
Direction of Magnetisation
Magnetised through the 12.7mm height/thickness
Dimensions
Width:100mm, Height:12.7mm, Length:100mm
Magnetic Product Description:
This ferrite block magnet has a 100mm length, a 100mm width and a height of 12.7mm. It is identified by the AMF magnet part number 12013. Grade Y30BH
Uses for our ferrite block magnets:
Companies offering mechanical repair and maintenance services to industry are early adopters of new technology for good reason. Servicing machinery of all types in a satisfactory manner is necessary, and so is returning the repaired equipment to the client with a reasonable price. Magnets of all types, including these large square shaped ferrite block magnets, 100mmx100mmx12.7mm in height, are deployed in mechanical workshops to help keep labour costs under control.
As machinery ages, moving parts can work themselves loose reducing the efficient expression of mechanical power. Magnets, available in many sizes and shapes and strengths, including ring magnets that can be threaded onto a spool, rod or axle, can help secure or regulate moving parts while still allowing them to move when required within known pull/push, hold and release tolerances.
In other words, for the repair and maintenance of machinery and equipment, magnets offer a durable and reliable option to prolong the life of components rather than installing new parts. Given significant cost savings with repair rather than replace, many clients opt for the former.
These powerful ferrite block magnets housed in cleaning apparatus are often used to attract, capture and secure metal fragments from mechanical workshop floors and related areas in order to conform to health and safety protocols.
The captured metal secured to block magnets is held separate from non-metallic waste for convenient retrieval and recycling. Capturing metal fragments first and foremost protects sensitive sections of sweeping and scrubbing machines prolonging their longevity. Mechanical workshop floors can get dirty, slippery and can contain significant slip, trip and fall hazards. Ferrite block magnets housed in cleaning equipment help make regular cleaning chores simpler and safer and quicker.
Our large ferrite block magnets are often used in sweeping and separation applications. Any machining of ferrite blocks must be done with the superabrasive diamond wheel, ideally before magnetisation.
NB: Ranges are indicative for product category, please check individual products for specific values within that range.