Ferrite Block Magnet - 150mm x 50mm x 25.4mm
Product code: 12015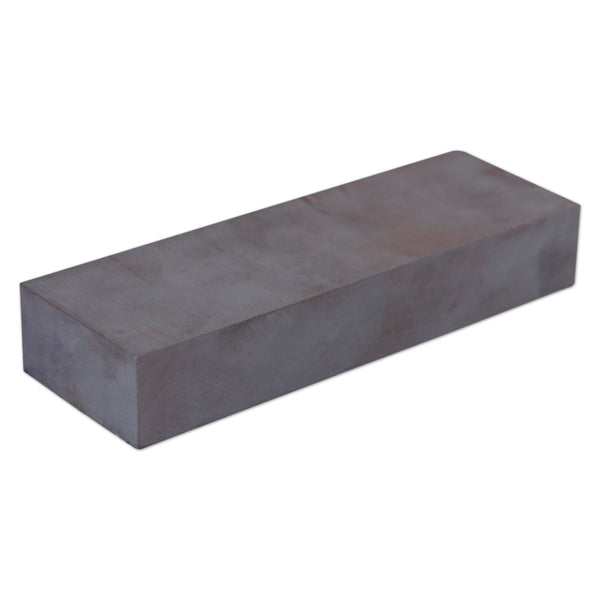 $44.53
buy 10 to 99 items
and
save 20%
$37.41
buy 100+ items
and
save 33%
Australia's Leading Supplier
Ferrite Block Magnet - 150mm x 50mm x 25.4mm
Style
Ferrite block magnet
Direction of Magnetisation
Magnetised through the 25.4mm height/thickness
Dimensions
Width:50mm, Height:25.4mm, Length:150mm
*Measured against up to 10mm mild steel.
Magnetic Product Description:
This ferrite block magnet has a 150mm length, a 50mm width and a height of 25.4mm. This ferrite magnet has a  magnetic flux reading of  1982 Gauss and a pull force of  9 kg. It is identified by the AMF magnet part number 12015.
Uses for our ferrite block magnets:
People who make wine sink or swim depending on the taste of the wine. Enter ferrite block magnets, especially 150mmx50mmx25.4mm models. The flavour of wine can be ruined by forces outside the control of the winemaker.
Smoke taint from nearby bush fires when the grapes are approaching maturity can ruin the whole harvest or vintage. Cork taint from traditional bottle closures was enough to drive producers' to turn to screw cap closures. Weather patterns, soil types and myriad grape varieties as well as harvest methods and extraction technologies can affect flavour. Moreover, fermentation protocols as well as blending and additives influence flavour as well.
Given these variables, winemakers refuse to take any chances with the water they use in the production of wine.
Magnets, including these ferrite block magnets, are used in a wide variety of technologies including filters of all sizes. Magnets are also attached to grates for the treatment of water at industrial sites to remove heavy metals. The water is recycled back into the industrial operation, often to cool plant and equipment.
Wine makers use magnetic power throughout the viticulture production cycle to screen out metallic particles, salt and other impurities regardless of whether the water comes from town supplies, dams or creeks or artesian wells. As well as filters and magnetic grates, winemakers also have the option of engaging portable devices containing very powerful magnets.
Clamped to the outside of standard water pipes these units literally crush rust and other minerals and metals, salt and other impurities with brute magnetic force applied through the pipes surface without breach.
This simple yet effective method turns hard water, not suitable for use in winemaking, into soft water, suitable for winemaking. Or at least water suitable for watering the vines and cleaning the equipment used to make wine. Hard water, rich in minerals and salt can significantly reduce the lifespan of appliances and vegetation, including grape vines. Thank you ferrite block magnets!
Our large ferrite block magnets are often used in sweeping and separation applications. This ferrite magnet is ideal for metal separation assemblies.
NB: Ranges are indicative for product category, please check individual products for specific values within that range.