Ferrite Cylinder Magnet - 4mm x 5mm
Product code: 11040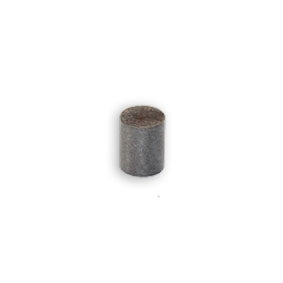 $0.41
buy 1000 to 9999 items
and
save 10%
$0.35
buy 10000+ items
and
save 23%
Australia's Leading Supplier
Ferrite Cylinder Magnet - 4mm x 5mm
Style
Ferrite Cylinder magnet
Direction of Magnetisation
Axially magnetised thru the height
Dimensions
Height:5mm, Diameter:4mm
*Measured against up to 10mm mild steel.
Magnetic Product Description:
This Ferrite Cylinder Magnet has a diameter of 4mm and a height of 5mm. It has a magnetic flux reading of 1161 Gauss and a pull force of 76 grams. It is identified by the AMF Magnet part number 11040.
Uses for Ferrite Cylinder Magnets:
As well as housed in control valves, flow meters and sensors of many different shapes and sizes, to control and regulate moving parts, these 4mmx5mm ferrite cylinders are also housed in the monitoring devises that protect against the accidental or deliberate incorrect operation of these vital instruments for the measurement of physical forces.
With the help of these permanent magnets valves, gauges, metres and sensors measure temperature and pressure, gasses, liquid and powder and grain flows for the accurate measurement and the safe operation of machinery and infrastructure. Sensors housing magnets are able to detect stresses in structures including hulls of ships, grain silos and dam walls.
These ferrite cylinders are also used extensively in electronics equipment as a reliable and removable and permanent method of regulating movement of moving parts, in particular reed switches for the opening and closing of electrical circuits with the application or withdrawal of a magnetic force field. This exercise of magnetic force has proved, since the evolution of electronic systems, a safe and secure method of holding and releasing individual electronic components in an intuitive, light touch or no contact method that greatly increases the durability and reliability of all electronic devices.
These tiny ferrite cylinder magnets are also widely used in games and toys of many types. Embedded in chess pieces for the secure enjoyment of a game of chess on the train or plane or during an earthquake, these magnets provide unobtrusive pleasure in allowing game pieces to be easily held and released and held again.
Allowing the toy or doll to be separated at a predetermined joint or section helps protect the toy, doll or game from more terminal damage when subjected to unreasonable forces like being battered against a tree trunk. In this event, the article simply collapses at the predetermined magnetic pull forces for simple and intuitive recoupling later.
Ferrite magnets, also known as ceramic magnets, have the strongest magnetic field of all magnets and a good resistance to corrosion. They can be used in a wide range of applications including assembly of souvenirs, fridge magnets and whiteboard magnets.
NB: Ranges are indicative for product category, please check individual products for specific values within that range.