Ferrite Disc Magnet - 20mm x 3mm | Capped
Product code: 10040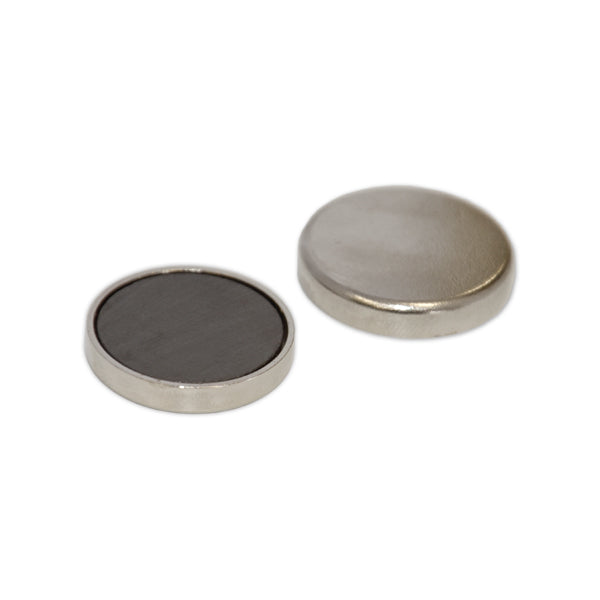 $0.87
buy 1000 to 9999 items
and
save 23%
$0.77
buy 10000+ items
and
save 32%
Australia's Leading Supplier
Ferrite Disc Magnet - 20mm x 3mm | Capped
Style
Ferrite Disc magnet capped Total diameter with cap is 22mmx4mm
Direction of Magnetisation
Axially magnetised thru the 4mm
Dimensions
Thickness:3mm (4mm with cap), Diameter:20mm (22mm with cap)
*Measured against up to 10mm mild steel.
Magnetic Product Description:
This steel-capped ferrite disc magnet has a diameter of 22mm and a thickness of 4mm. It has a magnetic flux reading of 1994 Gauss and a pull force of 350 grams. It is identified by the AMF magnet part number 10040.
Uses for our ferrite disc magnets:
The scope of work for medical research facilities usually begins in the laboratory and then extends to wide-scale community studies with a focus on diagnosis, prevention and treatment of disease or disorders of the mind and body. These steel capped 20mm x 3mm ferrite disc magnets are sprinkled throughout the laboratory equipment medical research facilities rely on to discover the behaviours of pathogens. These ferrite disc magnets can be found in electronics and electrical equipment in laboratories to reliably regulate the moving parts within. Magnetic engagement can also be found as a method of fixing or joining cabinetry, climate and temperature controlled units, shelving and benchtops.
This method of securing components of the laboratory infrastructure with magnetism allows for ease of deconstruction for cleaning, sterilising or resurfacing of all surfaces in order to better control potential contaminants.
Disc magnets, including steel capped ferrite disc magnets, deployed as opening and closing protocols hold by 'bond' rather than 'tie'. That is, they engage two surfaces by magnetic pull force. Similarly, magnets release at a known pull force to allow draws and doors and cabinets to open.
By engaging and releasing moving parts with magnetic bond, surfaces or component parts are not pierced or breached. This method is a technique of designing out voids or breaches of the surfaces and infrastructure of the laboratory where otherwise moisture, bacteria and viruses might hide and prosper.
Ease of deconstruction of any and all surfaces in the laboratory makes possible more regular and thorough cleaning and sterilising. Ease of deconstruction and reconstruction makes this necessary process more economical and provides comfort that laboratory infrastructure can be more easily discounted as a culprit in any contamination event. In the never ending campaign against disease, magnets, like these ferrite disc magnets have joined the battle.
Some applications for our Ferrite magnets are handcrafts, souvenirs and fridge magnets.
NB: Ranges are indicative for product category, please check individual products for specific values within that range.