Ferrite Ring Magnet - 145mm (OD) x 75mm (ID) x 20mm (H)
Product code: 13010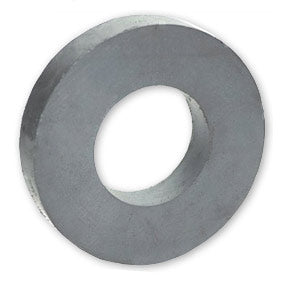 $33.91
buy 10 to 99 items
and
save 26%
$28.92
buy 100+ items
and
save 37%
Australia's Leading Supplier
Ferrite Ring Magnet - 145mm (OD) x 75mm (ID) x 20mm (H)
Style
Ferrite Ring magnet
Direction of Magnetisation
Axially magnetised thru the 20mm
Dimensions
Outside Diameter:145mm, Inside Diameter:75mm, Thickness:20mm
*Measured against up to 10mm mild steel.
Magnetic Product Description:
This ferrite ring magnet has an outside diameter of 145mm, an inside diameter of 75mm and a thickness of 20mm. It has a pull force of 8.1kg and a Y30BH grade. It is identified by the AMF Magnetics part number 13010.
Uses for our Ferrite Rings Magnets:
Our ferrite ring magnets are often used in loudspeakers and also in resonance imaging and torque drives. One popular application for children is the fishing game, tied on a piece of string to pick up pins and needles. The ferrite rings offer reduced magnetic strength, due to the hole, but the inexpensive pricing makes them a firm favourite. Some applications are: holding, door closures, joinery, light fixture.
100%
of reviewers would recommend this product to a friend
Awesome
I'm floating mine too, they work well as a friction reduced bearing/flywheel.
Purchased as an experiment in Magnetics
Used to float a rotating gyroscope. Worked well as field was uniform and strong. shielded packaging was superb.
NB: Ranges are indicative for product category, please check individual products for specific values within that range.