Tesla Meter MG-901 | Measure Gauss
Product code: 89171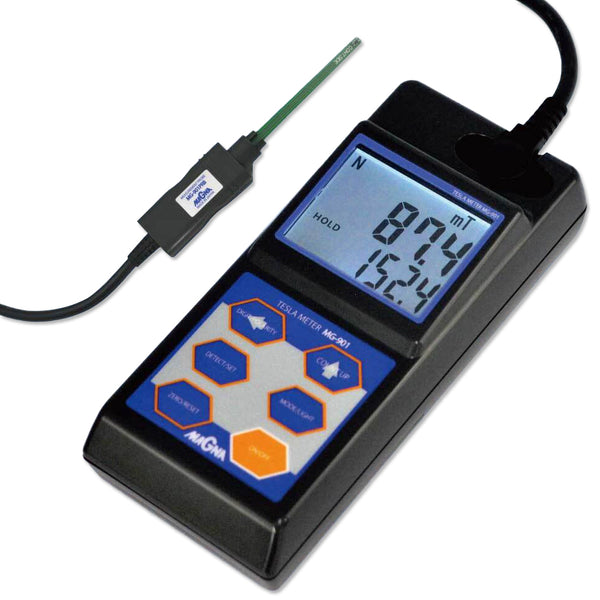 Australia's Leading Supplier
Tesla Meter MG-901 | Measure Gauss
Product Description:
This Tesla Meter MG-901 has an operating range of between 0 to 3000 Tesla (mT), which converts to 0 to 30000 Gauss (G). This unit's probe is easily replaced and does not require recalibration. This product is identified by AMF Product Code 89171.
Download our Tesla Gauss Meter MG-901 Manual
Power saving system and AC power supply allows longer continuous device operation
Battery-life allows 160 hours of continuous device operation.

3 way power supply system with batteries, USB and AC power supply. AC adapter sold separately.

Sampling speed is improved 1.5 times when measuring in the hold mode.

Mode Accuracy of high resolution for measurement on DC magnetic flux density, is now improved. (Compared to previous models)

Range covering frequency for measuring AC magnetic flux density is expanded. (40 – 500Hz)
Allows PC Operation with digital output through USB
Measured data is read by PC and also PC can operate measuring through USB connection. USB cable sold separately, required.

Highly innovated Free PC control application.
*Measured data is now "mT" (Tesla) exclusively in compliance with the unit specified by the Measurement Law. Converting mT (Tesla) to Gauss (G) is easy! Find a conversation calculator here or follow the equation below.
1 mT = 10000 Gs, G
1 Gs, G = 0.0001 mT
Example:
 

convert 15 T to Gs, G:
15 T = 15 × 10000 Gs, G = 150000 Gs, G
Key Features:

Digital and analog output terminals are provided. (Analog cable with 3.5 mini plug sold separately)

The probe has been reduced in width further to enable measurement in a very limited space.

Small size and light weight of 250gm.

Large and easy-to-read display.

A wide measuring range from 0 to 3000 mT. (Direct current)

The high resolution measuring mode ensures more accurate measurement. (Resolution 0.01 mT =0.1 G)

Auto power-off function preserves battery-life.

Probe can be replaced without troublesome calibration.
Uses for our Tesla Meter MG-901:

Equipment in manufacturing and processing plants that use magnetic fields in their operation requires periodical testing in-situ to verify their correct operation in varying conditions. Overheated operating conditions can weaken magnetic fields or cause permanent magnets to demagnetise to either a small or large extent AMF Tesla meters make sure the magnets that operate as components inside important measuring, separation and monitoring equipment retain their field strength and are operating within acceptable parameters.
The AMF MG-901 Tesla meter operates under both battery and mains power and offers handheld convenience and remote testing ability. The probe makes it easy to access magnets in restricted spaces. It is a compact, light and easy to operate device which measures the magnetic flux density in Tesla (mT) of individual magnets as well as industrial systems that employ magnetic fields.