HandyMagnet Tool Holder Flexible Strip | Contains 9 Neo Magnets Per Strip
Product code: HM-Clear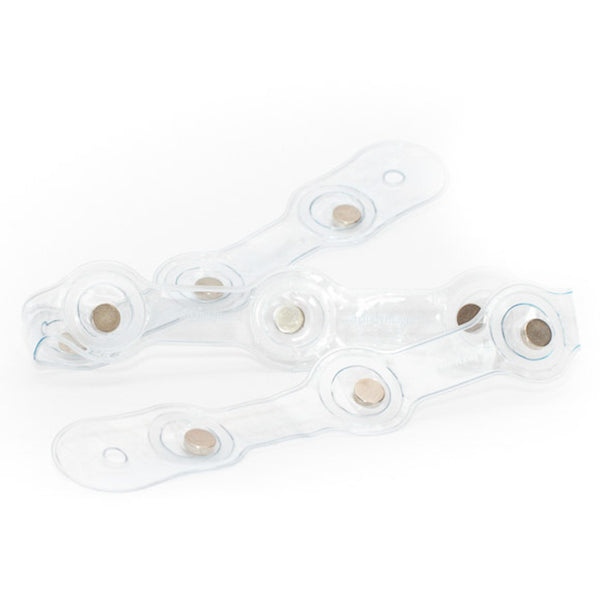 $13.21
buy 10 to 99 items
and
save 18%
$12.19
buy 100+ items
and
save 25%
Australia's Leading Supplier
HandyMagnet Tool Holder Flexible Strip | Contains 9 Neo Magnets Per Strip
Pull Force*
Up to 1kg for each magnet
Style
9 rare earth magnets encased in a hardwearing plastic coating
Coating
Clear PVC Waterproof cover
Direction of Magnetisation
Through height of magnets
Dimensions
760 mm long plastic strip
*Measured against up to 10mm mild steel.
Magnetic Product Description:
This HANDYMAGNET is 750mm long, has a width of 25mm and holds 9 Neodymium rare earth magnets (12500 gauss each), which is encased in a clear plastic cover. Each magnet has a 1kg pull force in ideal conditions (temperature range +/- 50 degree Celcius)
Ha a wide range of uses and features:
These sewable magnetic buttons are easy to sew into place, and are sold by the pair to create a strong magnetic closure. Ideal for using in bags, totes, backpacks, jacket pockets, purses, or on curtains, privacy screens and lanyards. The clear PVC coating makes it easy to sew-in the button by hand or machine. 
How to use our Flexible Magnetic Buttons:
Easy to use and re-use Guaranteed lasting strength
Waterproof cover. Can be cut and shaped to suit, stapled, sewed and tied.
Usually coatings applied to magnets are single use applications or can only be used in a limited number of ways. Use a bulldog clip to secure paper, messages or other items on a Handymagnet.
Hang your stapler, scissors,keys.
Organise all those bits and pieces like the sticky tape dispenser on the despatch desk.
Hold signs and notices onfiling cabinets, in archive rooms and in the kitchen on fridges.
Put one magnet either side ofwindows or glass partitions and you can even hang from there.
This versatile strip can beused almost anywhere.
It's guaranteed strength willhold up to 1kg per magnet providing all the energy you need to holdthings in place.
Solve problems with computer and power cables by tying them with Handymagnet - can be secured tocabinets, metal legs of desks or around non-magnetic objects.
Handymagnet strips are 75cm long and contain 9 high energy, rare earth magnets encased in a hard-wearing plastic coating, creating a more flexible, attachable and adaptable device than any other on the market.
Handymagnet is high in strength and ready for use.
NB: Ranges are indicative for product category, please check individual products for specic values within that range.
NB: Ranges are indicative for product category, please check individual products for specific values within that range.