Heavy Duty Magnetic Sweeper 14 inch with Release
Product code: FM-MFSM14RX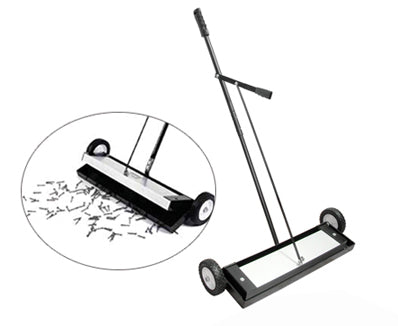 $351.90
buy 5 to 9 items
and
save 10%
$311.86
buy 10+ items
and
save 20%
Australia's Leading Supplier
Heavy Duty Magnetic Sweeper 14 inch with Release
Dimensions
Length:14 inches
Magnetic Sweeper Product Description:
This product has a 14-inch wide pickup area and is identified by the SKU product code FM-MFSM14RX

Uses for our powerful magnetic sweeper:

This Heavy Duty Magnetic Sweeper is an easy-to-use and powerful magnetic tool that is designed to make cleaning up metal debris and swarf a fast and easy chore. With 14″ of magnetic pickup surface areas and a safe and simple lever-activated release, you can quickly clean up debris over large areas without needing to touch any sharp metal fragments. Keep your commercial or domestic workplace area safe, clean and more productive with this efficient magnetic sweeper.