Heavy Duty Magnetic Sweeper 24 inch with Release
Product code: FM-MFSM24RX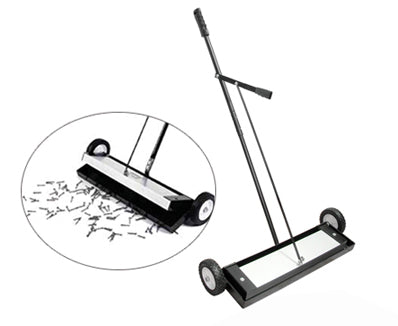 $515.35
buy 5 to 9 items
and
save 10%
$459.00
buy 10+ items
and
save 20%
Australia's Leading Supplier
Heavy Duty Magnetic Sweeper 24 inch with Release
Dimensions
Length:24 inches
Magnetic Sweeper Product Description:
It is identified by the AMF Magnets part number FM-MFSM24RX


Uses for our powerful magnetic sweeper:
AMF has Heavy Duty Magnetic Sweepers that are easily pushed along and will pick up and remove metal debris in workshops and factories so that unwanted swarf does not contaminate the end product or the workplace. They are ideal for the removal of sharp metal debris like nails or screws from car parks and construction sites. Uncollected metal debris can puncture car tyres which in turn can frustrate customers and employees and create costly downtime problems.
The self-cleaning release arm withdraws the magnet away from the pickup area so the debris can fall into a collection bin for safe, remote, hands-free disposal or recycling. Magnetic sweepers are ideal for metal fabrication workshops where off-cuts and other fine hazardous metallic material need to be removed. Metalwork classrooms and metal trades schools find these sweepers an important cleanup tool for the end of the day. This type of magnetic broom collects ferrous debris safely and efficiently, which is greatly appreciated in the workplace for both the degree of safety and the standard of cleanliness it provides. The compact size of this sweeper makes it easy to store and manoeuvre around small or confined work spaces so metal contamination never becomes a problem.
The strong Ceramic magnet inside the sturdy aluminium housing is able to attract metal swarf with its wide magnetic field so all metal fragments are collected and safely removed. These magnetic sweepers save a lot of time and money. around workshops, outdoor areas and any premises where metal fabrication occurs