Magnetic Bead (Cylinder) 5mm x 8mm | with 2mm hole
Product code: 69023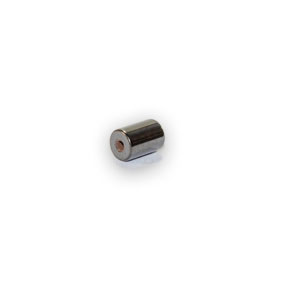 $0.52
buy 10 to 99 items
and
save 10%
$0.40
buy 100+ items
and
save 31%
Australia's Leading Supplier
Magnetic Bead (Cylinder) 5mm x 8mm | with 2mm hole
Style
Ferrite Magnetic Bead (Cylinder) w/2mm hole
Direction of Magnetisation
Axially magnetised thru the height
Dimensions
Height:8mm, Diameter:5mm
*Measured against up to 10mm mild steel.
Magnetic Product Description:
This Ferrite bead (Cylinder) magnet has a diameter of 5mm and a height of 8mm. It has a magnetic flux reading of 1789 Gauss and a pull force of 56 grams. There is a 2mm hole through the centre of the 8mm height and it's identified by the AMF magnet part number 69023.
Uses for our ferrite bead cylinder magnets:
If magnetic jewellery is therapeutic then these ferrite bead cylinders, 5mmx8mm with a void or central cavity of 2mm are useful little helpers in the burgeoning wellness industry. Magnets of all types and strengths are deployed in everything from beds and furniture, clothing and footwear for people and their pets for apparent therapeutic benefit.
Be that as it may, there is no conjecture about the benefit of these able to be threaded ferrite cylinder magnets for securing or joining necklaces, bracelets and bangles and for securing or regulating the moving individual components on earrings, brooches and watches.
Permanent and removable, safe and secure, reliable and reusable, these bead magnets, suitably attired in decorative clasps, join necklaces and bracelets and bands in an intuitive manner that protects the precious parts of the article itself. As a failsafe mechanism or breaking strain protocol, magnetic fastening using these bead magnets release at a pre-determined pull force, depending on the strength of magnets deployed in the clasps.
Should an accident occur and the chain or assembly experiences sudden or unreasonable force the magnets will release their magnetic connection first, as they are designed to do, protecting the article itself from the any further pressure. This fail safe method or braking strain is replicated on fishing tackle. The fishing line breaks first in response to excessive force, before that same force is able to inflict any damage on the much more valuable fishing reel or fishing rod. That's a relief!
Threaded onto a spool, rod or spindle these magnetic cylinders offer a hidden or secret method of holding releasing and regulating in a smooth intuitive manner. A peerless agent of regulation of moving parts in a never ending variety of applications of assemblies of all kinds.
Ferrite beads are generally used in magnetic jewellery and handcrafts.
NB: Ranges are indicative for product category, please check individual products for specific values within that range.