Magnetic Sheeting - Green | 620mm x 0.8mm | PER METRE | Supplied As Continuous Length
Product code: 59129M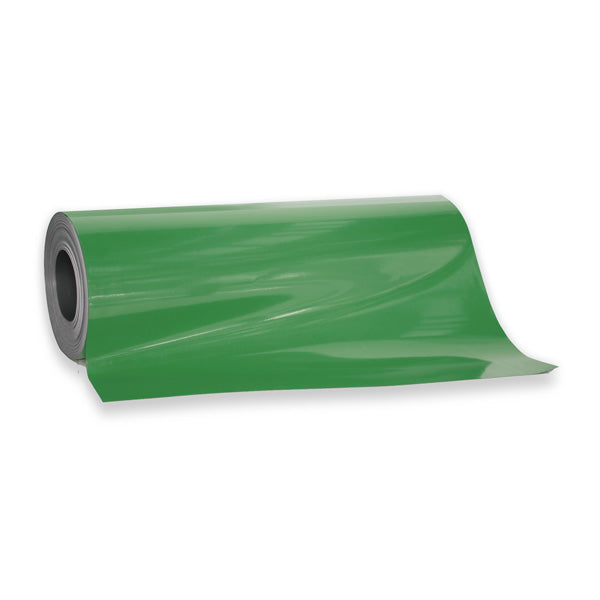 Australia's Leading Supplier
Magnetic Sheeting - Green | 620mm x 0.8mm | PER METRE | Supplied As Continuous Length
Style
Magnetic Sheeting Per Metre (Green)
Coating
Coloured gloss PVC (Green)
Direction of Magnetisation
Magnetised on the brown side only
Dimensions
Thickness:0.8mm, Width:620mm, Length:Per metre
Sheet Magnets Product Description:
This coloured sheet magnets has a width of 620mm and a thickness of 0.8mm. This magnetic sheeting has a green glossy PVC coating. Coloured side is non-magnetic. Available by metre if required. It is identified by the AMF magnets part number 59129M.

If used as car signage or protective panelling on your vehicle, ensure to remove this product at least once a week. Clean the surface of your car and the back of the sheeting to prolong its longevity. Always remove before washing your car.

Uses for our Coloured Sheet Magnets:
Green as a colour has come a long way in a short period of time. It is most associated in modern times with the natural environment. Entities like councils promoting recycling protocols, National Park agencies, conservation societies, and businesses like nurseries, landscaping professionals and mowing services often use the colour green to display their allegiance to the vegetated world.
The addition of symbols and text to the surface of these sheets via computer assisted graphic technology offered by many printing companies allows you to apply these sheets onto surfaces suitable for magnetic cling engagement. These are many and include motor homes and caravans, marine craft, mobile office and accommodation structures associated with construction, development and mining encampments.
Alternatively, with the use of a simple white board marker pen hand noted text and symbols can be written on the glossy green surface of the magnetic sheet in an easy to erase manner with the aid of a clean piece of cloth or paper towel.
Easy to cut, apply, write on and remove with no material penalty to the surfaces to which magnetic engagement has been applied, these versatile and flexible magnetic sheets provide another option for the sympathetic colour co-ordination to surfaces in which these magnetic sheets are going to be applied.
NB: Ranges are indicative for product category, please check individual products for specic values within that range.
NB: Ranges are indicative for product category, please check individual products for specific values within that range.