Magnetic Sheeting - Orange | 620mm x 0.8mm x 10m | ROLL
Product code: 59121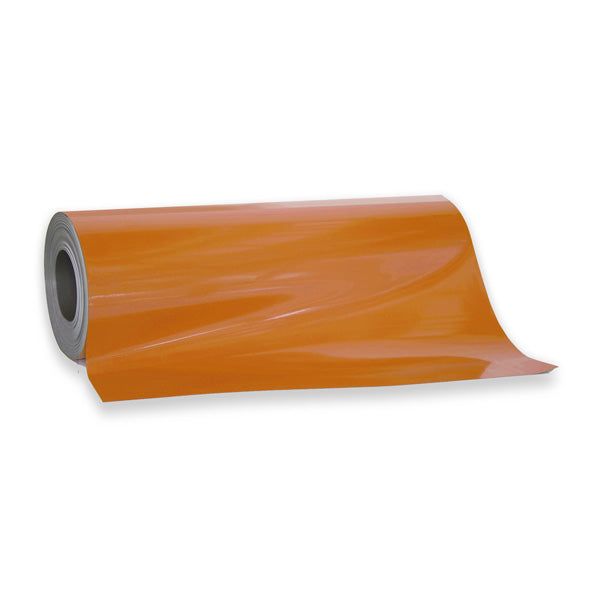 $304.75
buy 5 to 9 items
and
save 13%
$270.25
buy 10+ items
and
save 22%
Australia's Leading Supplier
Magnetic Sheeting - Orange | 620mm x 0.8mm x 10m | ROLL
Style
10m Roll of Orange Magnetic Sheeting
Coating
Coloured gloss PVC (Orange)
Direction of Magnetisation
Magnetised on the brown side only
Dimensions
Thickness:0.8mm, Width:620mm, Length:10 metres
Magnetic Sheeting Product Description:
This coloured magnetic sheeting roll has a width of 620mm and a thickness of 0.8mm. The roll comes in a length of 10 metres. This magnetic sheeting roll has an orange glossy PVC coating. Coloured side is non-magnetic. It is identified by the AMF Magnets part number 59121.
If used as car signage or protective panelling on your vehicle, ensure to remove this product at least once a week. Clean the surface of your car and the back of the sheeting to prolong its longevity. Always remove before washing your car.
Uses for our Coloured Magnetic Sheeting:
People working in low light or unfamiliar environments use this orange magnetic sheeting marked with a white board marker pen of the preferred colour, for clarity of messaging. This magnetic sheet material can be easily cut to fit desired spaces for identifying potential hazards, affixed to equipment detailing handling protocols or cut into arrow icons indicating the safe direction people should take in low light environments.
Due diligence comes in many forms these days. Appropriate signage is a simple measure to help reduce the risks of accidents of all kinds. Low light environments benefitting orange coloured signage include photographic darkrooms, backstage and wings of theatres and projection rooms, conference rooms and storage and maintenance spaces of all kinds.
Orange is a colour that demands attention and people approaching an orange sign are immediately drawn to the notice and the symbols or text recorded upon it. The orange glossy surface is easily marked and easily erased or replaced when conditions require a different expression or the sign itself becomes redundant.
The beauty of magnetic bond is that surfaces treated in this way suffer no material penalty when the magnetic sign is removed. This ensures there is no issue of damage or defacement to address for surfaces subject to magnetic engagement. For producers of stage shows, conference organisers and pop-up productions in a variety of different places this versatile, flexible and easily cut magnetic sheeting provides an option to dealing with site specific issues, placed to maximise available light and need as and where they arise.
NB: Ranges are indicative for product category, please check individual products for specic values within that range.
NB: Ranges are indicative for product category, please check individual products for specific values within that range.