Self-Adhesive Magnetic Sheeting - 0.4mm x 315mm | 100m ROLL
Product code: 59047B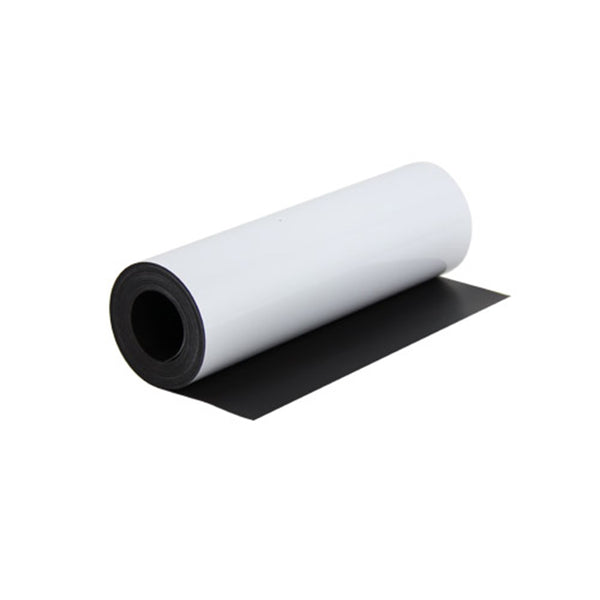 $747.50
buy 5 to 9 items
and
save 9%
$678.50
buy 10+ items
and
save 18%
Australia's Leading Supplier
Self-Adhesive Magnetic Sheeting - 0.4mm x 315mm | 100m ROLL
Style
Self-Adhesive Magnetic Sheeting
Dimensions
Thickness:0.4mm, Width:315mm, Length:100m
Magnetic Product Description:
This self adhesive magnetic sheeting roll has a width of 315mm and has a thickness of 0.4mm. The roll comes in a length of 100 metres. Adhesive side is non-magnetic.  Constructed from Strontium or Barium ferrite powder within a polymer matrix, this self-adhesive magnetic sheeting is manufactured to provide good demagnetisation resistance & reasonable resistance to chemical agents. Identified by the AMF Magnets part number 59047B.
Uses for our Self-Adhesive Magnetic Sheeting:
Getting noticed in a crowded market place has been a challenge for merchants ever since the money changers were thrown out of the cathedral in biblical times. In days of yore, before magnetic sheeting was around to help secure signs in prominent places, a business or practice would hang their shingle out the front door of the shop to announce themselves to the world.
This shingle, a small signboard dangling from a couple of hooks with their name or business name on it, was pretty much it as far as advertising went. That was before the advent of magnetic sheets, (with self-adhesive, nonmagnetic, peel away paper backing on one side and magnetic surface on the other) and the megaphone.
That was then this is now. In the digital age the phrase 'it pays to advertise' has never been truer.
Magnetic sheeting, self-adhesive on one side, magnetised on the other, in 100 metre rolls, 315mm wide and only 0.4mm thick appeals to attention seekers everywhere. Oscar Wilde, the celebrated Irish playwright was correct, the only thing worse than being talked about is not being talked about.
Flyers and brochures, tickets to shows, menus, business cards and name tags all improve their visibility and durability with the help of magnetic sheeting. This constitutes greater value on marketing investments. Large signs for buildings, vehicles or stand-alone board sign can all be held securely in place and cleanly removed with the assistance of easy to cut and fix magnetic sheeting.
NB: Ranges are indicative for product category, please check individual products for specic values within that range.
NB: Ranges are indicative for product category, please check individual products for specific values within that range.