Self-Adhesive Magnetic Tape - 55mm x 0.6mm | 60m ROLL
Product code: 59009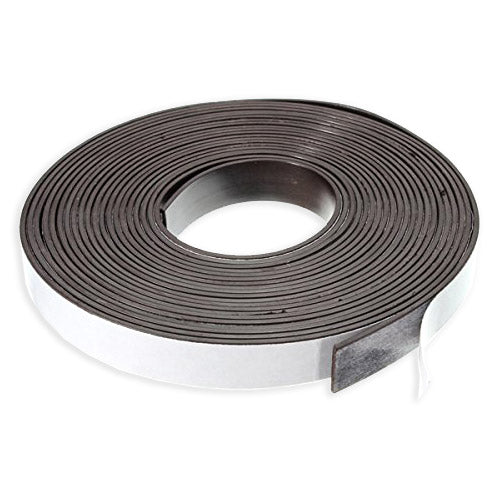 $97.75
buy 10 to 99 items
and
save 18%
$92.86
buy 100+ items
and
save 22%
Australia's Leading Supplier
Self-Adhesive Magnetic Tape - 55mm x 0.6mm | 60m ROLL
Style
Roll of self-adhesive magnetic tape
Direction of Magnetisation
Magnetised on one side only
Dimensions
Thickness:0.6mm, Width:55mm, Length:60metres
Magnetic Product Description:
This Magnetic Self-Adhesive tape roll has a width of 55mm, a thickness of .6mm and comes in a length of 60 metres. Our Self-Adhesive Magnetic Tape provides good demagnetization resistance and a fair resistance to chemical agents. It's identified by AMF Magnets part number 59009.
Uses for our Self-Adhesive Magnetic Tape:
Our Self-Adhesive Magnetic Tape is ideal for creating a magnetic surface in your warehouse, factory, office or home. Our tape uses a high quality adhesive on the back which enables you to attach it to any surface. Our 55mm Self-Adhesive Magnetic Tape is also suitable for adhering printed and non-printed materials to any ferrous metallic surface. You can easily cut our tape to size with a pair of scissors or Stanley knife. It has a protective peel-away paper backing on its adhesive side.
Moving sensitive and expensive goods and materials are tasks best left to transport companies specialising in these important operations. Handling methods, storage protocols, time restrictions and in some cases feeding and watering and climate controls may need to be observed.
Managers and workers transporting sometimes fragile or live cargo purchase 55mm wide self-adhesive magnetic tape in 60 meter rolls. This flexible magnetic tape is applied to any surface to alert and remind transport workers of the specific needs of special cargo.
Able to be secured to any kind of surface by virtue of the peel away protected adhesive surface, professionally made and reusable signs exhibit clear instructions, symbols, pictures and text, in a variety of languages to follow the cargo on its journey using magnetic strips.
Using this method of magnetic strip engagement allows the signs to be quickly and easily removed and repositioned to accompany the special cargo. From truck to truck or a ship, plane or train, the vital care and handling signs can be simply and quickly attached to any and all prominent surfaces within the new environment.
When the delivery is made the signs can be quickly and simply removed and stored safely for their next assignment. The self-adhesive magnetic tape can be just as quickly and simply removed with little or no material penalty to the surfaces to which it has been attached.
Transporting special cargo requires high levels of due diligence. With the use of self-adhesive magnetic tape, vital signs are clear and concise, reliable and reusable, safe and secure. Indeed, magnetic self-adhesive tape represents a permanent and removable investment in due diligence.
Investing in cargo specific signage attached using magnetic tape that follows sensitive goods like a sheep dog is an investment in the logistics companies own survival. Clients may forgive, but they never forget. Keeping plenty of self-adhesive magnetic strip, 55mm wide and 60 metres in length, managers and transport workers make sure they steer clear of potential trouble.
100%
of reviewers would recommend this product to a friend
NB: Ranges are indicative for product category, please check individual products for specic values within that range.
NB: Ranges are indicative for product category, please check individual products for specific values within that range.