Neodymium Disc Magnet - 101.6mm x 25.4mm
Product code: 20000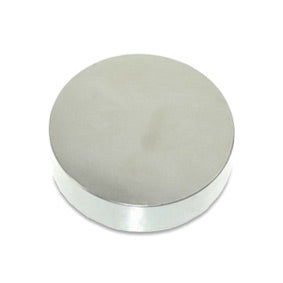 $573.85
buy 5 to 9 items
and
save 16%
$518.02
buy 10+ items
and
save 24%
Australia's Leading Supplier
Neodymium Disc Magnet - 101.6mm x 25.4mm
Style
Neodymium Disc magnet
Direction of Magnetisation
Axially magnetised
Dimensions
Height:25.4mm, Diameter:101.6mm
*Measured against up to 10mm mild steel.
Magnetic Product Description:
This rare earth disc has a diameter of 101.6mm and a height of 25.4mm or one inch. It has a magnetic flux reading of 2817 Gauss and a pull force of  237.9kg. It is identified by the AMF magnet part number 20000.
Uses for our rare earth disc magnets:
With a pull force of 237.9 kg it's no wonder these neodymium disc magnets measuring 101.6mm in diameter sell well to companies whose job it is to lift heavy objects.
As well as cranes, hoists and winches in workplaces and in the field, these magnets also find homes in hospitals and aged care facilities. In fact anywhere the job of heavy lifting is deemed necessary.
Lifting heavy objects can inflict serious injury or even death if trouble strikes. These powerful magnets are engaged in a wide variety of machines and equipment. These devices help reduce the risks inherent in making airborne heavy, cumbersome objects. The on/off switch on some of the devices allows for simple engagement (lifting) and simple disengagement (release). This method of lifting also reduces the risk of slippage, twisting or failure more likely with tying or binding type engagements like chains, straps or ropes. These old technologies require you to get underneath the heavy object before you even start the lift. Magnetic force can be applied to the top or sides of the item and lifted that way.
Magnetic force and engagement provides more security before, during, and terminating the lift, than the insecurity of traditional binary methods. Magnetic lifting practices provide more security and safety than the insecurity of a trolleys lifting step. There is bound to be a lifting device utilizing these powerful magnets for your particular requirements.
NB: Ranges are indicative for product category, please check individual products for specic values within that range.
The most common coating for Neodymium magnets is Nickel + Copper + Nickel (Ni + Cu + Ni). This coating offers the magnet relatively good protection from corrosion and passive applications. If the magnet will be exposed to moisture or liquid then consider the use of an organic coating such as Epoxy. A hard wearing coating, Epoxy is suited to applications where the magnet will come under some friction or knocking.
Magnets are readily available in Blocks, Discs, Cylinders & Rings. AMF Magnetics specializes in the supply of short-run prototype magnets including Arc Segments, various magnetic orientations etc. If you need a magnet size that we don't carry in stock, submit a Design-a-Magnet enquiry for a quote on your custom magnet design.
Neodymium magnets are offered in several different grades. The first section N30-54 has an operating temperature of up to 80 degrees. Most of our stock only goes up to N38. The second section, denoted with the "M" prefix after the grade has an operating temperature 100 degrees. After this the grades are "H", "SH", "UH" & "EH". In order for the magnet to withstand a higher operating temperature, during production more of the raw material PrNd is incorporated as these elements have a naturally occurring resistance to high temperatures.