Self-Adhesive Neodymium Disc Magnet - 20mm x 4mm | N42 | Single-Sided 3M™ VHB™ F9472PC Adhesive
Product code: 20016B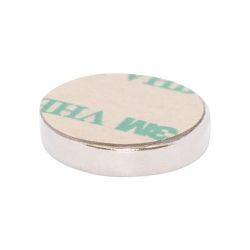 $6.56
buy 10 to 49 items
and
save 20%
$6.10
buy 50+ items
and
save 25%
Australia's Leading Supplier
Self-Adhesive Neodymium Disc Magnet - 20mm x 4mm | N42 | Single-Sided 3M™ VHB™ F9472PC Adhesive
Adhesive Type
Self-Adhesive Rare Earth Disc Magnet with 3M™ VHB™ F9472PC Adhesive
Face-Side Adhesive Type
3M™ High-Performance Acrylic Adhesive 100MP (0.25mm)
Maximum Operating Temperature (Celsius)
80°C
Primary Liner
58# Polycoated Kraft Paper (PCK)
*Measured against up to 10mm mild steel.
Magnetic Product Description:
This Self-Adhesive Neodymium Disc Magnet has a diameter of 20mm and a thickness of 4mm. It has a grade of N42 and pull force of 6.16 kilograms. This product is identified by AMF Magnetics Product Code 20016B.
This type of Self-Adhesive Neodymium Disc Magnet has 3M™ VHB™ (F9473PC) Adhesive on the NORTH side, providing excellent long-term holding power. This type of adhesive is superior for bonding metal trim, and bonding flexible circuits to aluminium rigidities or heat sinks. The adhesive is transparent and ideal for use in many interior and exterior applications. These magnets are commonly used in Industrial Joining and Metal Fabrication.
3M

™

 

VHB

™ (F9473PC)

 

Adhesive is 0.25 mm 100MP high-performance acrylic with 107 microns 26 kg poly-coated kraft paper liner - printed.
Uses for our Rare Earth Disc Magnets:
Neodymium Discs are easily fitted into other products with very little consequence to the operation of these products. In fact, they are often used to improve the performance or appearance of many modern products or artistic works. They are sometimes retrofitted or otherwise incorporated into the early product design stage where they are used to create magnetic joins between component parts or even act as switches that operate electrical systems. This small and powerful Neodymium disc has been designed with a highly practical 3M adhesive backing so it can be applied to various materials, surfaces and circumstances. The magnet can attach to non-ferrous items so they become compatible with metal surfaces in the kitchen, shed or office.
Home and commercial maintenance problems can often be solved with the application of a strong yet unobtrusive Neodymium Disc magnet. Tradespeople and maintenance workers find countless ways to use these strong Neodymium disc magnets during their workday. Scale model makers are constantly finding new ways to apply magnetic bond to help their projects appear more lifelike or to operate more practically. Magnetic power is permanent under most conditions which makes these disc magnets a highly cost-effective alternative to the more traditional fastening systems.