Self-Adhesive Neodymium Disc Magnet - 20mm x 4mm | N38 | Single-Sided 3M™ VHB™ F9472PC Adhesive
Product code: 20016A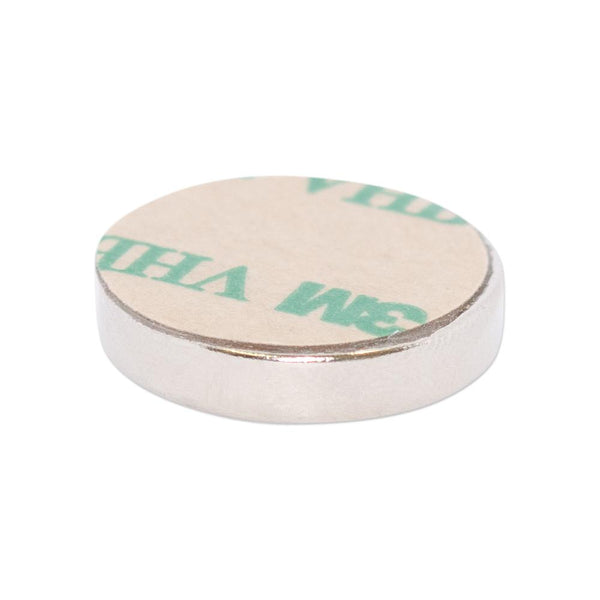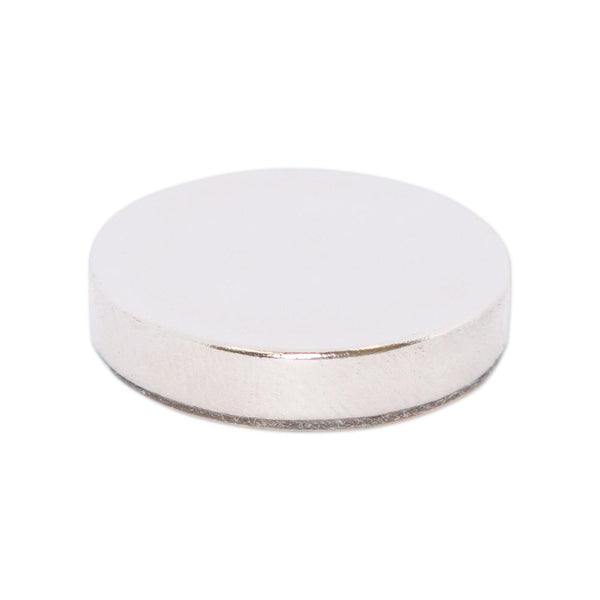 $6.27
buy 10 to 49 items
and
save 22%
$6.04
buy 50+ items
and
save 24%
Australia's Leading Supplier
Self-Adhesive Neodymium Disc Magnet - 20mm x 4mm | N38 | Single-Sided 3M™ VHB™ F9472PC Adhesive
Adhesive Type
Self-Adhesive Rare Earth Disc Magnet with 3M™ VHB™ F9472PC Adhesive
Face-Side Adhesive Type
3M™ High-Performance Acrylic Adhesive 100MP (0.25mm)
Maximum Operating Temperature (Celsius)
80°C
Primary Liner
58# Polycoated Kraft Paper (PCK)
*Measured against up to 10mm mild steel.
Magnetic Product Description:
This Self-Adhesive Neodymium Disc Magnet has a diameter of 20mm and a thickness of 4mm. It has a grade of N38 and pull force of 5.57 kilograms. This product is identified by AMF Magnetics Product Code 20016A.
This type of Self-Adhesive Neodymium Disc Magnet has 3M™ VHB™ (F9473PC) Adhesive on the NORTH side, providing excellent long-term holding power. This type of adhesive is superior for bonding metal trim, and bonding flexible circuits to aluminium rigidities or heat sinks. The adhesive is transparent and ideal for use in many interior and exterior applications. These magnets are commonly used in Industrial Joining and Metal Fabrication.
3M

™

 

VHB

™ (F9473PC)

 

Adhesive is 0.25 mm 100MP high-performance acrylic with 107 microns 26 kg poly-coated kraft paper liner - printed.
Uses for our Rare Earth Disc Magnets:
Circular Neodymium disc magnets are very powerful and because of their relatively small dimensions, can still operate effectively in cramped or confined spaces. This makes Neodymium disc magnets a common choice for customers who want to add a magnetic feature to their products or replace the more traditional attachment mechanisms such as screws, clips or clamps with a more practical and more modern option. This magnetic product also has the added feature of a self-adhesive surface on one side. The adhesive can be exposed by peeling away the backing and this allows the magnet to be attached to surfaces other than metallic ones. This means magnetic hold can be extended to almost any product or design including ones made of timber, plastic or ceramic materials.

The field of these strong Neodymium discs is often strong enough to pass through thin exterior material and form an invisible bond or even a magnetic closure between two surfaces. Whether a large-scale manufacturer or home-based hobbyist, strong disc-shaped magnets can transform an average product design or artistic work into something more practical, more user friendly or more contemporary in style.
NB: Ranges are indicative for product category, please check individual products for specic values within that range.
The most common coating for Neodymium magnets is Nickel + Copper + Nickel (Ni + Cu + Ni). This coating offers the magnet relatively good protection from corrosion and passive applications. If the magnet will be exposed to moisture or liquid then consider the use of an organic coating such as Epoxy. A hard wearing coating, Epoxy is suited to applications where the magnet will come under some friction or knocking.
Magnets are readily available in Blocks, Discs, Cylinders & Rings. AMF Magnetics specializes in the supply of short-run prototype magnets including Arc Segments, various magnetic orientations etc. If you need a magnet size that we don't carry in stock, submit a Design-a-Magnet enquiry for a quote on your custom magnet design.
Neodymium magnets are offered in several different grades. The first section N30-54 has an operating temperature of up to 80 degrees. Most of our stock only goes up to N38. The second section, denoted with the "M" prefix after the grade has an operating temperature 100 degrees. After this the grades are "H", "SH", "UH" & "EH". In order for the magnet to withstand a higher operating temperature, during production more of the raw material PrNd is incorporated as these elements have a naturally occurring resistance to high temperatures.