Neodymium Fishing Magnet with M12 Threaded Eyelet - 136mm diameter x 92mm
Product code: AMFYPLNM136-2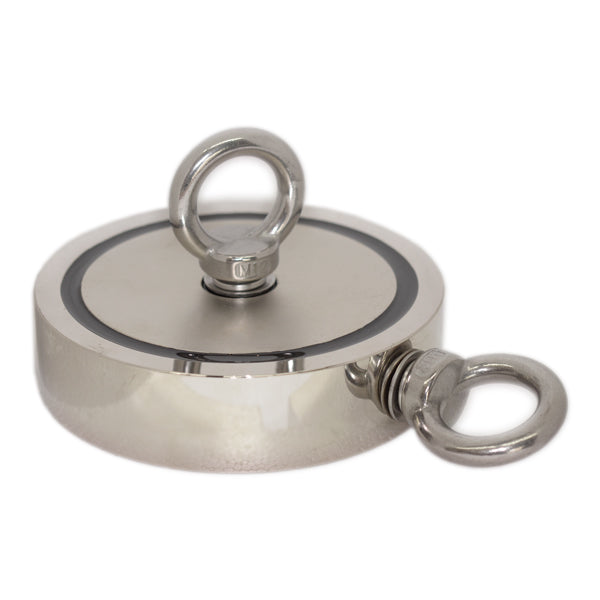 $310.50
buy 10 to 99 items
and
save 13%
$271.98
buy 100+ items
and
save 24%
Australia's Leading Supplier
Neodymium Fishing Magnet with M12 Threaded Eyelet - 136mm diameter x 92mm
Product Code
AMFYPLNM136-2
Style
Rare Earth Fishing Magnet
Dimensions
Height:92mm, Diameter:136mm
*Measured against up to 10mm mild steel.
Magnetic Product Description:

This Rare Earth Threaded Eyelet Pot Magnet has a pull force of 600kg and a weight of 4.1kg. It has a diameter of 136mm and a M12 thread. It is identified by the AMF magnet part number AMFYPLNM136-2.
This Neodymium Fishing Magnet has a detachable second eyelet, when this is removed both sides of the magnet are exposed creating a double sided fishing magnet. With both flat faces exposed, ferrous material is attracted to both sides while the recovery magnet is being dragged through the water. Thin, hard to access crevices can also be explored in this way.
The use of both eyelets with two ropes attached can make underwater recovery and salvage easier to control and can help avoid snags. With two retrieval ropes attached, different drag angles can be used to ensure the magnet unhooks from non-metallic material like branches, rocks, and man-made structures. The eyelets also help with the retrieval of important lost items or valuables, such as keys or jewellery, where searching the underwater area in a more controlled and systematic fashion increases the chance of success. Under optimal conditions, this magnet has a pull force capacity of 600 kg, however this is unlikely to be achieved where rusted metal in corrosive, watery environments is involved.
NB: Ranges are indicative for product category, please check individual products for specic values within that range.
The most common coating for Neodymium magnets is Nickel + Copper + Nickel (Ni + Cu + Ni). This coating offers the magnet relatively good protection from corrosion and passive applications. If the magnet will be exposed to moisture or liquid then consider the use of an organic coating such as Epoxy. A hard wearing coating, Epoxy is suited to applications where the magnet will come under some friction or knocking.
Magnets are readily available in Blocks, Discs, Cylinders & Rings. AMF Magnetics specializes in the supply of short-run prototype magnets including Arc Segments, various magnetic orientations etc. If you need a magnet size that we don't carry in stock, submit a Design-a-Magnet enquiry for a quote on your custom magnet design.
Neodymium magnets are offered in several different grades. The first section N30-54 has an operating temperature of up to 80 degrees. Most of our stock only goes up to N38. The second section, denoted with the "M" prefix after the grade has an operating temperature 100 degrees. After this the grades are "H", "SH", "UH" & "EH". In order for the magnet to withstand a higher operating temperature, during production more of the raw material PrNd is incorporated as these elements have a naturally occurring resistance to high temperatures.