Neodymium Magnetic Fixing Plate D60 M16 Thread
Product code: MFP16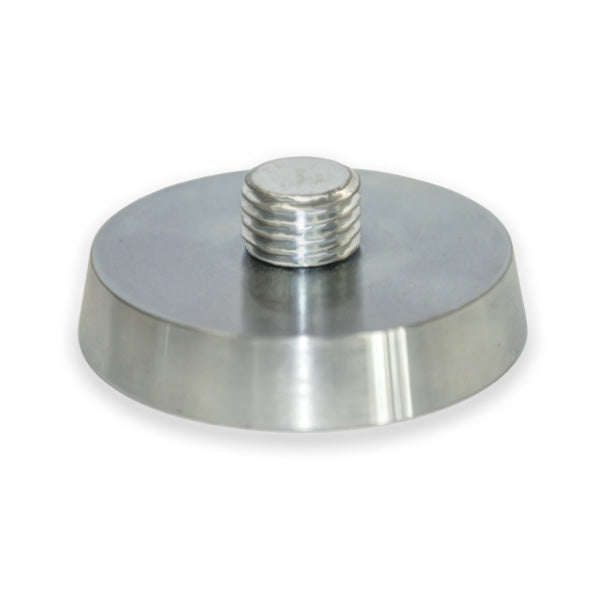 $55.46
buy 10 to 99 items
and
save 12%
$52.46
buy 100+ items
and
save 17%
Australia's Leading Supplier
Neodymium Magnetic Fixing Plate D60 M16 Thread
Style
Magnetic Fixing Plate
Dimensions
Thickness:12mm, Diameter:60mm
*Measured against up to 10mm mild steel.
Magnetic Product Description:
This Neodymium Magnetic Plate is used to fix the sockets to steel formwork. It has a diameter of 60mm with M16 thread, a pull force of 50kg and is identified by AMF Part Number MFP16.
Uses for our Neodymium Magnetic Plates:
Neodymium Magnetic Fixing Plates are designed to create attachment points that help in the safe and easy lifting and transportation of precast concrete modules and panels. The advantage of precast concrete panels that are made in a controlled factory environment, as opposed to those made on-site, is that they are usually found to be of more consistent and better quality. Having a reliable and safe way to lift and move the completed panels once they have cured adds considerable convenience to their eventual transportation to the construction site.
The controlled atmosphere found in a factory ensures evenly cured concrete products are produced in a safe and predictable environment and also allows close monitoring by staff to ensure only first-grade products reach the construction project. Most of the vagaries of On-Site casting are eliminated when the concrete components are pre-made and ready for assembly on site. Steel Formwork can be repeatedly used to make identical concrete modules of identical quality. Civil Engineers and Managers of Private and Public construction projects all rely on Precast concrete sections to meet their safety and economic requirements. Infrastructure projects like Bridges, Railways, Tunnels, Elevated Roads and Walkways as well as Factories, Retail Shops and Offices all benefit from the longevity and consistency that Precast sections provide. Architects and Engineers can design with confidence, predictability and economy by using Precast Concrete to reduce labour costs, human error and adverse weather impact. This Neodymium Magnetic Plate is used to attach Lifting Anchors or Fixing Sockets to the steel formwork when Precast Concrete Panels are being manufactured. Precast panels are made Off-site and need to be transported to the construction area. Without the lifting points and locating holes created by Magnetic Fixing Plates, the cured concrete sections would be very difficult to crane on to trucks or lifted into position on-site. The device contains powerful Rare Earth magnets that keep the plate in the required position on steel mouldings or forms during the casting process. Lightly oiling the casing will ensure its easy removal and make it reusable. Various sizes are available to suit a range of concrete panels.
NB: Ranges are indicative for product category, please check individual products for specic values within that range.
The most common coating for Neodymium magnets is Nickel + Copper + Nickel (Ni + Cu + Ni). This coating offers the magnet relatively good protection from corrosion and passive applications. If the magnet will be exposed to moisture or liquid then consider the use of an organic coating such as Epoxy. A hard wearing coating, Epoxy is suited to applications where the magnet will come under some friction or knocking.
Magnets are readily available in Blocks, Discs, Cylinders & Rings. AMF Magnetics specializes in the supply of short-run prototype magnets including Arc Segments, various magnetic orientations etc. If you need a magnet size that we don't carry in stock, submit a Design-a-Magnet enquiry for a quote on your custom magnet design.
Neodymium magnets are offered in several different grades. The first section N30-54 has an operating temperature of up to 80 degrees. Most of our stock only goes up to N38. The second section, denoted with the "M" prefix after the grade has an operating temperature 100 degrees. After this the grades are "H", "SH", "UH" & "EH". In order for the magnet to withstand a higher operating temperature, during production more of the raw material PrNd is incorporated as these elements have a naturally occurring resistance to high temperatures.