Neodymium Magnetic Latch Kit | Holding Strength 7.2kg
Product code: FM-07572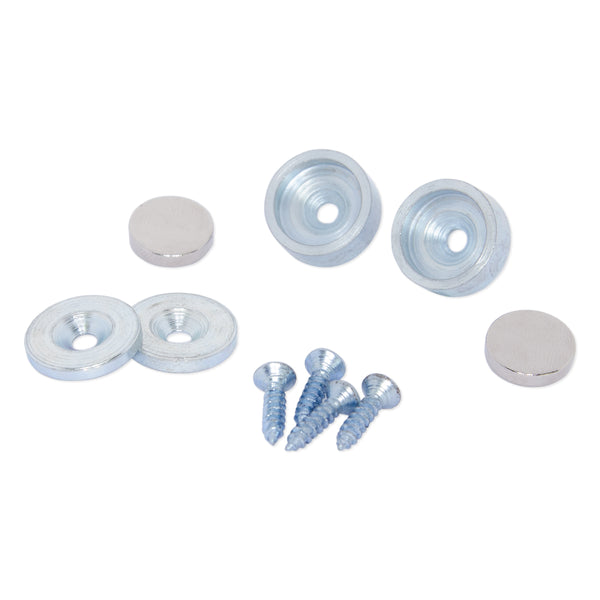 $20.36
buy 10 to 99 items
and
save 7%
$18.34
buy 100+ items
and
save 16%
Australia's Leading Supplier
Neodymium Magnetic Latch Kit | Holding Strength 7.2kg
Style
Neodymium Magnetic Latch Kit
*Measured against up to 10mm mild steel.
Product Description:
This set of 2 magnetic latches are 15.88mm x 6.35mm each, and have a max holding force of 7.2kg (16lbs) against 10mm mild steel. This product is identified by AMF Product Code FM-07572. Instructions for use: Flush mount steel cup into a 15.88mm (.625 inch) diameter x 6.35mm (.25 inch) deep counterbored hole, then insert the neodymium magnet. Flush or surface mount strike plate securely into opposite surface. Adhere friction disk to face of magnet (optional).
Uses for our Neodymium Magnetic Latch Kits:
Magnetic Latch Kits are very handy products that are available in various styles and configurations that operate in different ways, with different holding power for different applications. The assembly usually contains both a magnet and a metal striker plate that the magnet attaches to, when in the closed position. Most kits contain Ceramic magnetic material that casts a wide magnetic field so the attraction force is more effective. Others contain Neodymium material to meet extra holding strength requirements for cupboards and storage compartments inside vans, boats or recreational vehicles and for other more specialised applications. Devices with brittle ceramic magnets are devised with steel channel or some form of steel protuberance to shield the magnet and prevent impact damaging the magnet. The kits are also often used as doorstops, so doors and shutters don't blow open or closed, or so staff or customers can enter or leave a storeroom with their hands full. In this case, the striker plate could be screwed to the lower and outer back of the door for instance, and the Latch Magnet screwed to the wall to secure it in the open position. Some kits are designed to be recessed into cabinetry and attract a metal striker plate or steel washer attached to the cupboard door when in the closed position.