Neodymium Ring Magnet - 50mm (OD) x 15mm (ID) x 10mm (H) | N38 | Diametrically Magnetised
Product code: 23001B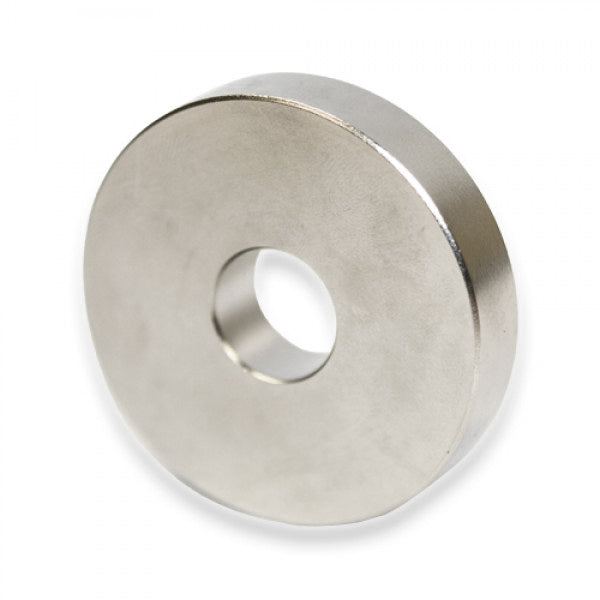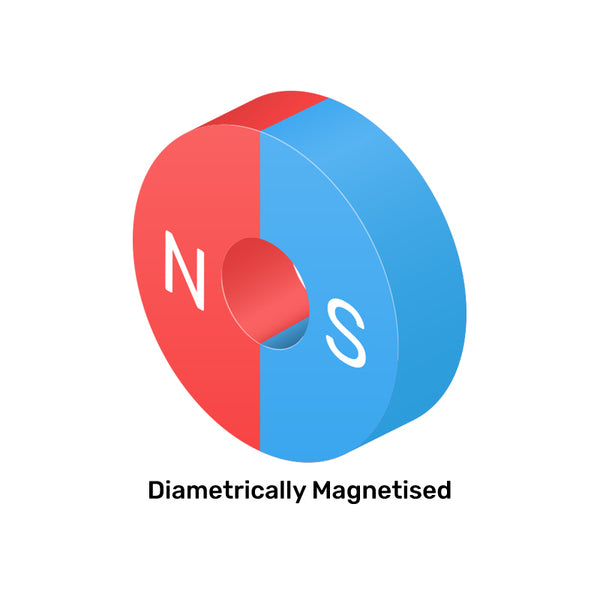 $119.06
buy 10 to 99 items
and
save 10%
$107.15
buy 100+ items
and
save 19%
Australia's Leading Supplier
Neodymium Ring Magnet - 50mm (OD) x 15mm (ID) x 10mm (H) | N38 | Diametrically Magnetised
Style
Rare Earth Diametric Ring Magnet
Direction of Magnetisation
Diametric
Dimensions
Outside Diameter:50mm, Inside Diameter:15mm, Thickness:10mm
*Measured against up to 10mm mild steel.
Magnetic Product Description:
This diametrically magnetised Rare Earth ring magnet has an Outside Diameter (OD) of 50mm, an Inside Diameter (ID) of 15mm, and a Thickness (T) or Height (H) of 10mm. This ring magnet has a pull force of 31 kilograms. It is identified by the AMF Magnetics part number 23001B.
Uses for our diametrically magnetised Rare Earth Ring Magnets:
A stitch in time saves nine. Technicians conducting defect detection tests on industrial equipment from ships hulls to grain silos and bridge pylons and conveyer belts are very familiar with this maxim.
Identifying defects in industrial equipment is best done sooner rather than later. The loss of productive capacity can dwarf the actual repair costs. Smaller magnets are deployed in many electronics devices these technicians use to conduct their examinations. For securing or regulating the movement of components within the electronics products, magnets are without equal, and have been an important part of the invention and development of the electrical and electronics story.
Strong ring magnets like these, are used to help hold and or regulate movement, release at a predetermined pull force, and or re-engage or hold again, moving parts. Sometimes threaded onto a spool or axle or rod, ring magnets, as well as regulating movement of nearby moving parts, also contain or compress moving parts that might otherwise drift from their allotted position and damage or otherwise reduce mechanical efficacy.
The amount of magnetic force needs to be such that it can contain or compress the moving parts negating drift, but not so strong as to suppress movement necessary for efficient mechanical function. The known pull force or magnetic strength of a particular magnet allows engineers and others to design sophisticated equipment that is reliable and durable.
Magnets project their power without a restricting locking engagement, allowing mechanical parts to move at regulated intervals, releasing at a pre-determined pull force or within acceptable tolerances. Other engagement or fastening methods struggle for these highly desirable and nuanced capabilities. Some of the defect tests themselves use magnetism itself to achieve results. Electromagnetism is used in a variety of different technologies and techniques to detect defects hidden inside structures like bridge pylons. Electromagnetism, allied to modern technology can accurately retrieve information about the structure including damage caused by heat, internal cracks not expressed on the surface or identification of what type of material is contained inside a structure without breaking it open.
Managers responsible for maintaining important infrastructure like dams, bridges, grain silos and ships have to conduct regular health checks on their structures and equipment. Magnets like these and their magnetism, in the form of electromagnetism provide a very useful service in a timely and prudent manner.
These powerful ring magnet are in constant demand, most often in the mining, transport and grain processing sectors.
100%
of reviewers would recommend this product to a friend
Great magnet and fast delivery
Great magnet and fast delivery , will shop again.
Good fast turn around, easy to purchase.
Easy to purchase with fast delivery. Good product does what we need it to do.
NB: Ranges are indicative for product category, please check individual products for specic values within that range.
The most common coating for Neodymium magnets is Nickel + Copper + Nickel (Ni + Cu + Ni). This coating offers the magnet relatively good protection from corrosion and passive applications. If the magnet will be exposed to moisture or liquid then consider the use of an organic coating such as Epoxy. A hard wearing coating, Epoxy is suited to applications where the magnet will come under some friction or knocking.
Magnets are readily available in Blocks, Discs, Cylinders & Rings. AMF Magnetics specializes in the supply of short-run prototype magnets including Arc Segments, various magnetic orientations etc. If you need a magnet size that we don't carry in stock, submit a Design-a-Magnet enquiry for a quote on your custom magnet design.
Neodymium magnets are offered in several different grades. The first section N30-54 has an operating temperature of up to 80 degrees. Most of our stock only goes up to N38. The second section, denoted with the "M" prefix after the grade has an operating temperature 100 degrees. After this the grades are "H", "SH", "UH" & "EH". In order for the magnet to withstand a higher operating temperature, during production more of the raw material PrNd is incorporated as these elements have a naturally occurring resistance to high temperatures.