Neodymium Magnet Fishing Recovery Kit with M8 Threaded Eyelet - 60mm dia.
Product code: PMYP-F60S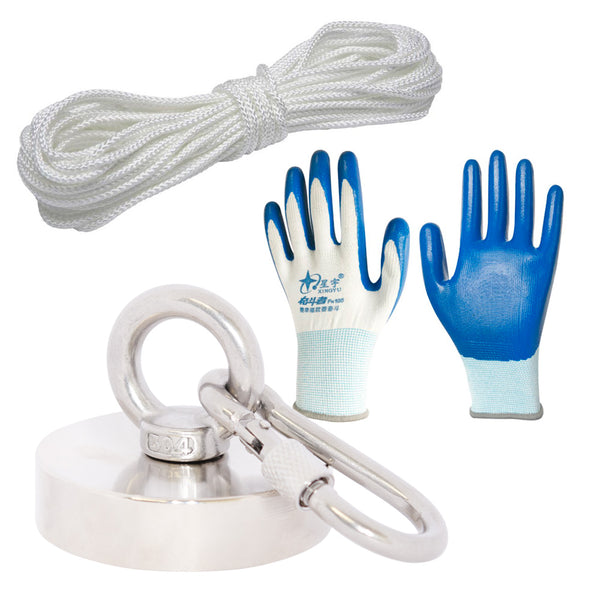 $162.09
buy 10 to 99 items
and
save 10%
$151.74
buy 100+ items
and
save 16%
Australia's Leading Supplier
Neodymium Magnet Fishing Recovery Kit with M8 Threaded Eyelet - 60mm dia.
Style
Neodymium Magnet Fishing Recovery Kit
*Measured against up to 10mm mild steel.
Magnetic Product Description:
This Neodymium Magnet Fishing Recovery Kit has a pull force of 150kg and a diameter of 48mm, with base eyelet attached. This kit is identified by AMF Part Number PMYP-F60S. The Kit includes:
1 x Neodymium Fishing Magnet with 60mm diameter and Stainless Steel 304 Eyebolt with M8 Thread.
1 x 10 metre double-braided nylon nope with 1/4" diameter.
1 x 304 Stainless Steel D-ring locking carabiner.
1 pair of non-slip and waterproof gloves.
This Neodymium Fishing Magnet with a pull-force of 150kg is suited to narrower watercourses like creeks and streams. Great for magnet fishing, lifting, hanging, retrieving applications and treasure hunting. The Rare Earth Fishing Magnet's Ni+Cu+Ni triple layer coating provides a shiny and rust-resistant finish. The steel casing protects the magnet from chipping or cracking, manufactured under ISO 9001 Quality Systems.
Fishing for metallic objects that lie beneath the surface is growing as a popular outdoor activity and occurs in lakes, dams, rivers, streams, lagoons, ponds, wells and even open water. Items recovered are varied and can date back to the pre-plastic era and include metallic tools, artefacts and weaponry from distant civilisations. People find Magnetic Fishing exciting, interesting and rewarding. An added bonus to this fun activity is the fact that capturing and removing things like discarded fishing tackle and associated plastics, as well as other metal debris, helps decontaminate polluted natural environments and prevents the long-term effects of metal decay while also helping to protect the fauna that lives in and around it.
NB: Ranges are indicative for product category, please check individual products for specic values within that range.
The most common coating for Neodymium magnets is Nickel + Copper + Nickel (Ni + Cu + Ni). This coating offers the magnet relatively good protection from corrosion and passive applications. If the magnet will be exposed to moisture or liquid then consider the use of an organic coating such as Epoxy. A hard wearing coating, Epoxy is suited to applications where the magnet will come under some friction or knocking.
Magnets are readily available in Blocks, Discs, Cylinders & Rings. AMF Magnetics specializes in the supply of short-run prototype magnets including Arc Segments, various magnetic orientations etc. If you need a magnet size that we don't carry in stock, submit a Design-a-Magnet enquiry for a quote on your custom magnet design.
Neodymium magnets are offered in several different grades. The first section N30-54 has an operating temperature of up to 80 degrees. Most of our stock only goes up to N38. The second section, denoted with the "M" prefix after the grade has an operating temperature 100 degrees. After this the grades are "H", "SH", "UH" & "EH". In order for the magnet to withstand a higher operating temperature, during production more of the raw material PrNd is incorporated as these elements have a naturally occurring resistance to high temperatures.