POS Sign Holder | Metal Base + Clip
Product code: POSB7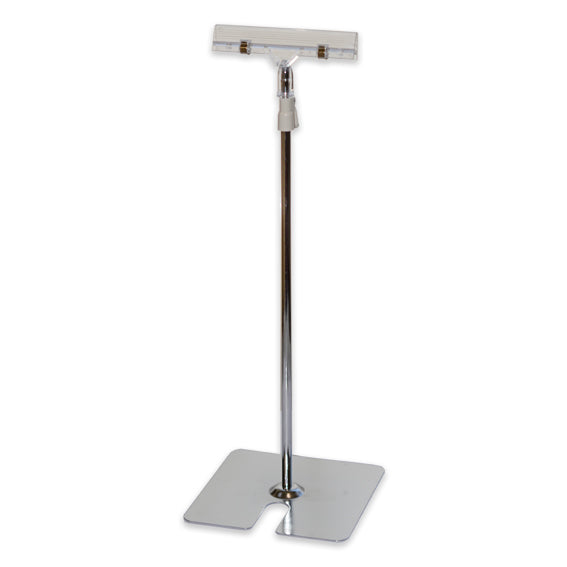 $8.56
buy 10 to 99 items
and
save 16%
$7.45
buy 100+ items
and
save 27%
Australia's Leading Supplier
POS Sign Holder | Metal Base + Clip
Style
BASE: 135mm x 135mm ARM: (extends from) 300mm to 550mm CLIP: 110mm (width)
Magnetic Product Description:
Perfectly suited to fast paced environments and busy retail stores, these POS Sign Holders are an affordable, reliable and versatile sales product that is strong enough to hold A3, A4 and A5 posters! Simply clip the page onto the extendable arm and place the metal base anywhere with a flat surface, such as the sales desk or a shelf within the store. The arm can extend from a height of 300mm to 550mm, making the advertisement more visible for customers and passers-by. Simple installation of new posters with this POS Display Sign Holder means saving time so that employees can focus on customer engagement.
Uses for our Sign Holders with Metal Base:
These POS Sign Holders are great for use in any fast paced environments such as retail stores, cafes, newsagents, waiting rooms and government buildings. They are well suited to these settings as they are a great tool for communicating simple or important information in an eye-catching way. The posters are easy to change over, simply unclip the original and then fasten the new one into place - perfect for employees in a rush! The point of sale display is able to hold the poster in a landscape or portrait position with the secure clip and can be placed on any flat surface without taking up too much space, thanks to the small but sturdy metal base (135mmx135mm).