Reflective Magnetic Tape | Hi-Vis Red and Yellow | 75mm x 0.8mm x 45m ROLL
Product code: 59207A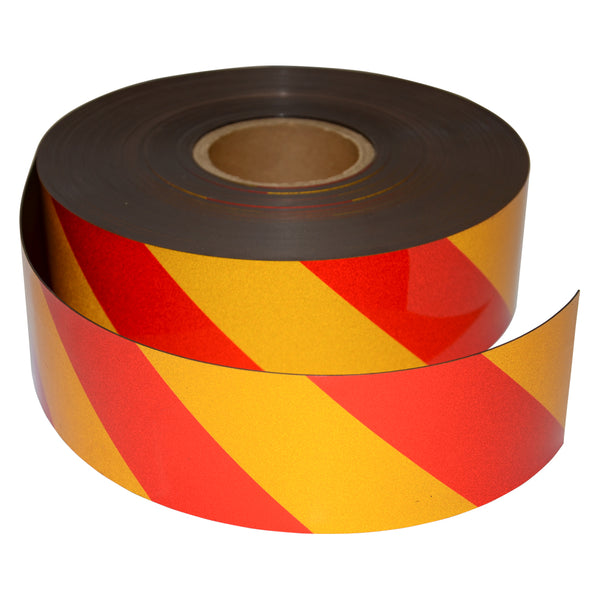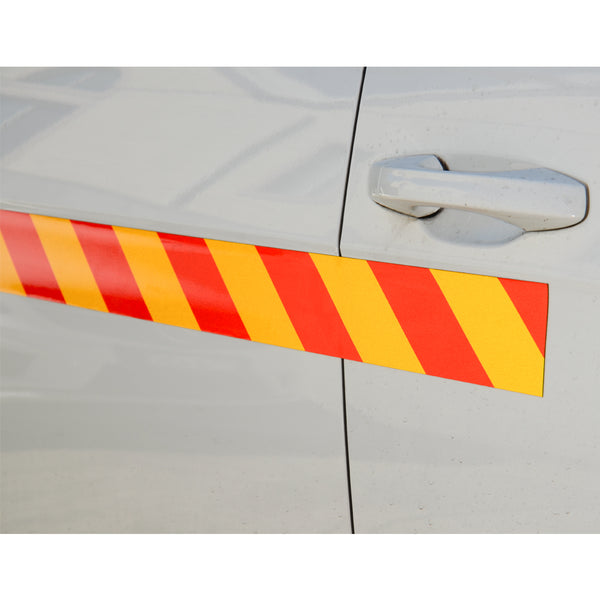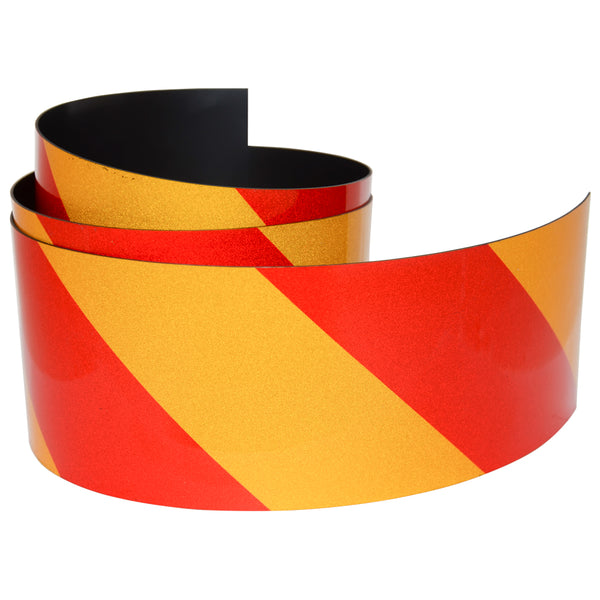 Australia's Leading Supplier
Reflective Magnetic Tape | Hi-Vis Red and Yellow | 75mm x 0.8mm x 45m ROLL
Style
Hi-Vis Reflective Magnetic Tape
Gauss
Fluorescent Reflective Film
Tolerance
Thickness:0.8mm, Width:75mm, Length:45m
Magnetic Product Description:
This Reflective Magnetic Tape is 75mm wide, 0.8mm thick and comes in a 45 metre roll. The magnetic tape attaches to vehicles, machinery and any other metallic surface while the diagonal red and yellow pattern helps to highlight danger points, protrusions, sharp edges, railings, low heights and trip hazards. This product is identified by AMF Magnetics part number 59207A.
Ensure to remove this product from any vehicle at least once a week. Clean the surface of your car and the back of the reflective tape to prolong its longevity. Always remove before washing your car.
Uses for our Hi-Vis Reflective Magnetic Tape:
This 75mm wide Reflective and Magnetic tape product has a Red and Yellow diagonally striped pattern that is designed to attach to steel materials to alert employees, road users or members of the public to unsafe situations or potential danger. These Reflective Hazard Warning tapes are made with flexible, magnetic material that illuminates at night and are ideal for highlighting oversize, immobile, damaged or disabled machinery and vehicles. Proactive marking of potentially hazardous metal objects around garages, warehouses, driveways and large vehicle undercarriages can also be an important form of workplace accident prevention and help support good work safety practises. Service technicians and workers carrying out maintenance procedures in factories or commercial premises find these Magnetic Warning tapes an important tool for alerting others to their presence and help keep areas clear while they work. The risk of potential damage or injury from obstacles such as steel posts, bollards, stanchions and load bearing structures is greatly reduced when they are fitted with Reflective Warning Tapes that can be applied and removed magnetically. This item can be purchased from AMF in 45 metre long rolls.
NB: Ranges are indicative for product category, please check individual products for specic values within that range.
NB: Ranges are indicative for product category, please check individual products for specific values within that range.