Rubber Coated Neodymium Pot Magnet - Diameter 43mm x 16mm with Cable Mount
Product code: RCND43H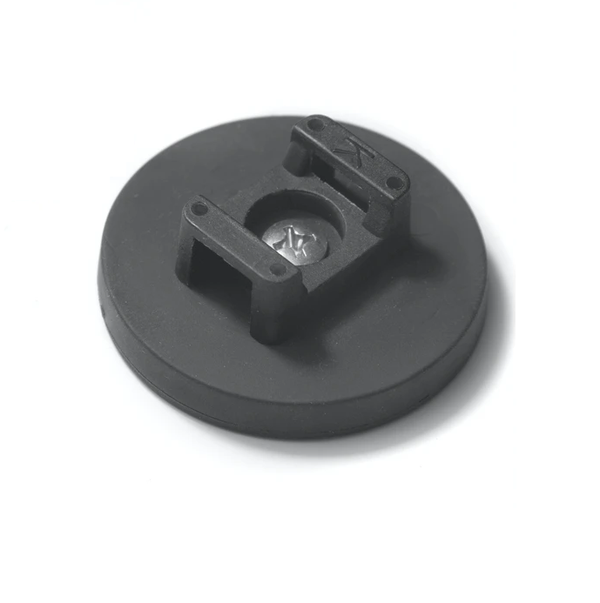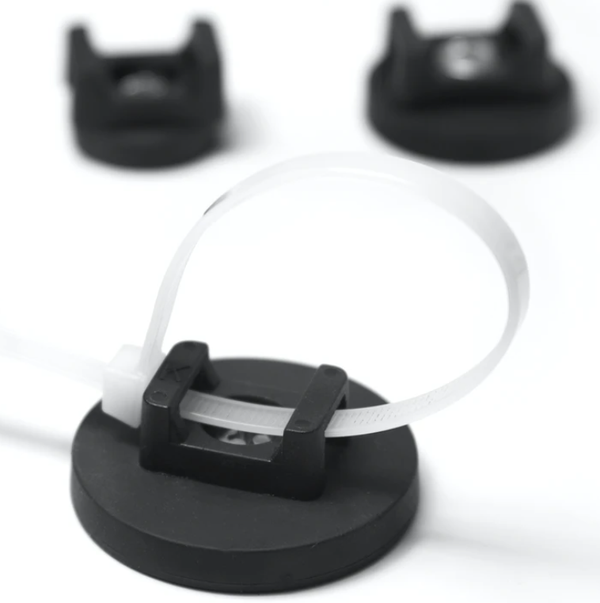 $14.66
buy 10 to 99 items
and
save 10%
$13.08
buy 100+ items
and
save 20%
Australia's Leading Supplier
Rubber Coated Neodymium Pot Magnet - Diameter 43mm x 16mm with Cable Mount
Style
Rare Earth rubber coated pot magnet
Direction of Magnetisation
Axially magnetised
Dimensions
Total Height:16mm, Diameter:43mm
*Measured against up to 10mm mild steel.
Magnetic Product Description:
This rare-earth cable mount pot magnet has a diameter of 43mm, a total height of 16mm with a cable tie mount, and a Santoprene rubber coating that protects delicate surface areas. This cable mount magnet has a pull force of 10kg. It is identified by the AMF magnet part number RCND43H.
Product Uses
Magnetic cable tie mounts are the perfect marriage. Combining the effortless convenience of cable ties with the powerful hold of magnets. Cable ties or zip ties are a common household product for good reason. Providing a versatile and highly adjustable means of attaching any two objects together. Magnetic cable tie holders are an innovative new product which provide strong Neodymium magnetic power. You can secure just about any object with these magnetic cable ties. All you require is a ferrous metal surface like a pole, fridge, locker, storage rack or metal supports. 
AMF offers free standard shipping Australia wide for all online purchases over $30.
Magnetic cable tie mounts are a relatively new product in the AMF range. We have a number of sizes and strengths available so you can find the perfect magnetic cable tie for your application.  The powerful Neodymium disc magnet in this product can provide a permanent and powerful magnetic hold. This product is known by the product code RCND43H and it boasts a 10kg weight capacity. The larger the magnet the more weight it is capable of holding and we have a number of larger magnetic cable tie holders available. Alternatively you may choose to use a number of magnetic cable ties along the length of a longer or bulkier object. 
Customers love these magnetic cable tie products as they enable power cords, lighting cables and other electronic apparatus to be secured. You can provide a safe and obstruction-free office or workshop by securing electrical cables off the floor. The rubber coated magnets are quick and easy to secure to steel or any ferrous surface. The fantastic thing about this rubber coating is that it protects the underlying surface from damage. There is no need to worry about attaching these magnetic cable tie mounts to painted surfaces. The magnet can be moved or removed without scratching or marking the paint in any way.
Rubber coated magnets like this magnetic cable tie holder are ideally suited to outdoor applications. The rubber protects the Neodymium magnet from corroding due to exposure to moisture. Neodymium magnets are the most powerful magnet available however they corrode when exposed to ambient humidity. If you are looking for a practical solution to securing items outside then these magnetic cable ties are the perfect option. Shade cloth, awnings and wind barriers can all be secured using these magnets. If you'd like more information about magnets for the outdoors, take a look at our FAQ and Knowledge base articles.
Magnets are perfect for homeowners or renters. They provide a means of securing items without damaging the objects they are secured to. Magnets can be attached in the blink of an eye and removed again without leaving any sign they were ever in place. There is no need to waste time having to fill, patch or paint the surface to restore it after removal.
These magnetic cable tie holders provide another layer of convenience to this love story. With most magnetic products you would need to glue or screw the magnet to a non magnetic object. This fantastic product allows you to zip tie the object in a robust hold that is permanent if desired. The cable ties can be removed and the magnet reused endlessly. Attaching timber, cables or plastic to metal is much easier and can be done without the need for penetrative screws or messy glue!
NB: Ranges are indicative for product category, please check individual products for specic values within that range.
The most common coating for Neodymium magnets is Nickel + Copper + Nickel (Ni + Cu + Ni). This coating offers the magnet relatively good protection from corrosion and passive applications. If the magnet will be exposed to moisture or liquid then consider the use of an organic coating such as Epoxy. A hard wearing coating, Epoxy is suited to applications where the magnet will come under some friction or knocking.
Magnets are readily available in Blocks, Discs, Cylinders & Rings. AMF Magnetics specializes in the supply of short-run prototype magnets including Arc Segments, various magnetic orientations etc. If you need a magnet size that we don't carry in stock, submit a Design-a-Magnet enquiry for a quote on your custom magnet design.
Neodymium magnets are offered in several different grades. The first section N30-54 has an operating temperature of up to 80 degrees. Most of our stock only goes up to N38. The second section, denoted with the "M" prefix after the grade has an operating temperature 100 degrees. After this the grades are "H", "SH", "UH" & "EH". In order for the magnet to withstand a higher operating temperature, during production more of the raw material PrNd is incorporated as these elements have a naturally occurring resistance to high temperatures.