Rubber Coated Neodymium Pot Magnet - Diameter 88mm x 18mm with Cable Mount
Product code: RCND88H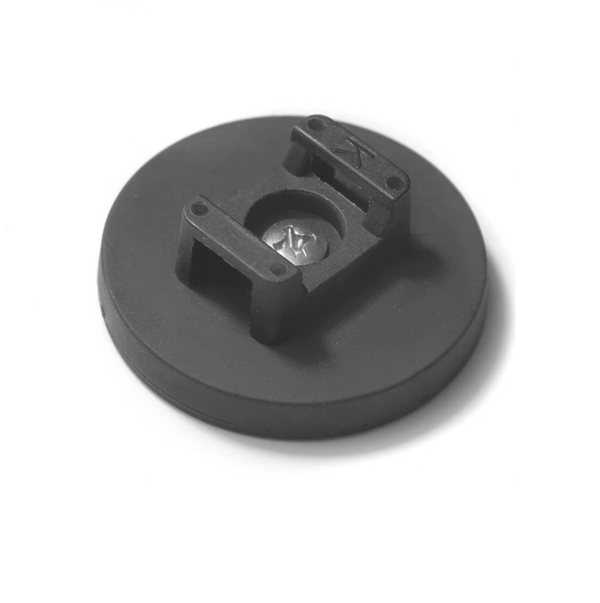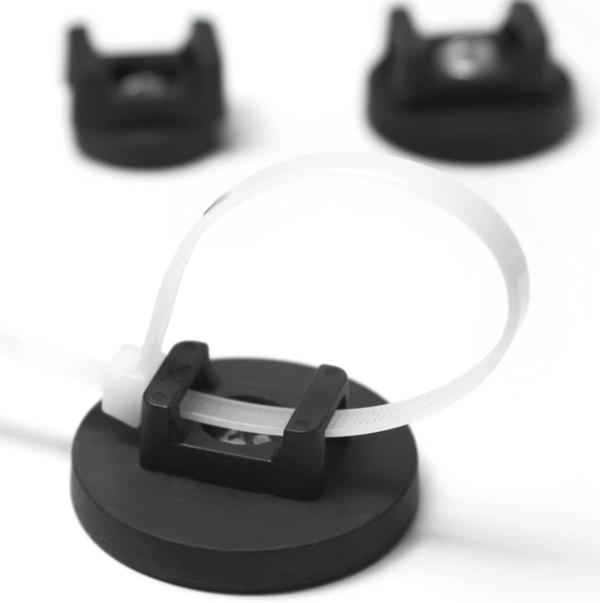 $35.05
buy 10 to 99 items
and
save 10%
$31.15
buy 100+ items
and
save 20%
Australia's Leading Supplier
Rubber Coated Neodymium Pot Magnet - Diameter 88mm x 18mm with Cable Mount
Style
Rare Earth rubber coated pot magnet
Direction of Magnetisation
Axially magnetised
Dimensions
Total Height:18mm, Diameter:88mm
*Measured against up to 10mm mild steel.
Magnetic Product Description:
This rare-earth cable mount pot magnet has a diameter of 88mm, a total height of 18mm with a cable tie mount, and a Santoprene rubber coating that protects delicate surface areas. This cable mount magnet has a pull force of 42kg. It is identified by the AMF magnet part number RCND88H.
Product Uses
AMF would like to introduce you to our new Magnetic cable tie holders. A cable tie or zip tie is a fastener that can be found in just about every workplace and household. They provide excellent binding strength and adjustability. Neodymium magnets are almost magical in their incredible holding power. Put these two products together and BINGO you have yourself a strong, reliable and versatile product! Never before has there been a product that makes it so easy. You can attach objects to a metal surface without the need to deal with messy glue or look for suitable screws. You can put away the drill, these magnetic cable ties take only a second to secure in place. 
Online purchases over $30 are eligible for AMF's generous free standard shipping Australia wide offer.
Magnetic cable ties are super convenient and user friendly. They consist of a powerful Neodymium magnet in a rubber housing. This housing has two brackets that allow for the cable tie to be easily slid through to provide a robust connection.
Magnetic cable ties provide a versatile and adjustable way to attach two objects together. The adjustability of zip ties means they can be made to clip around just about anything. You can then secure your object magnetically to any ferrous metal surface. Surfaces like metal poles, fridges, lockers, storage racks or metal supports can all be utilized by adhering a magnetic cable tie mount. 
Neodymium magnets truly do provide an amazingly powerful magnetic strength. However there one downfall is their propensity to corrode. In even ambient humidity Neodymium magnets succumb to corrosion. There are a number of coating options available with varying degrees of weather protection. Each coating provides different advantages and you can see the full breakdown of their attributes on our Knowledge Base page. 
Rubber coated magnets, including this magnetic cable tie holder are suited to outdoor applications. The Neodymium magnets are protected by the rubber coating which prevents the magnets being exposed to moisture.  Shade cloth, weather awnings and wind shields can all be held in place using these rubber coated magnetic cable ties. If you'd like more information about magnets for the outdoors, take a look at our FAQ and Knowledge base articles.
Since their introduction to the market, we have seen these magnets being used for a wide array of applications. The smaller versions are well suited to securing electrical power cords. Cords can certainly be a major hazard in any workplace and these magnetic cable tie mounts certainly provide a neat and safe solution. Power leads can be lifted up and off wet floors and kept tucked away under cabinets or against walls. 
Another fantastic application we've heard about is in hospitals. Nurses have embraced these magnetic cable tie holders as a means of securing cords up and under beds. It saves time in what can be high pressure situations. It also removes the risk of the cords getting tangled or damaged as the heavy hospital beds are wheeled about the hospital. No matter whether it is one cable or ten, magnetic cable ties are the ideal solution.
Renters! We've got you covered with these magnetic cable ties. These rubber coated magnets are simple and easy to use. The rubber coating protects the underlying surface. You can adjust or remove the magnet without leaving a scratch or any trace if it was there at all. You can secure heavy and bulky items with this strong magnet. Other forms of attachment including hanging brackets and adhesive tabs are theoretically non-invasive however there is always some risk of damage. When using rubber coated magnets you can trust there will be no damage at all. There is no need to waste time, stress and money to fill, patch or paint the surface to restore it after removal.
NB: Ranges are indicative for product category, please check individual products for specic values within that range.
The most common coating for Neodymium magnets is Nickel + Copper + Nickel (Ni + Cu + Ni). This coating offers the magnet relatively good protection from corrosion and passive applications. If the magnet will be exposed to moisture or liquid then consider the use of an organic coating such as Epoxy. A hard wearing coating, Epoxy is suited to applications where the magnet will come under some friction or knocking.
Magnets are readily available in Blocks, Discs, Cylinders & Rings. AMF Magnetics specializes in the supply of short-run prototype magnets including Arc Segments, various magnetic orientations etc. If you need a magnet size that we don't carry in stock, submit a Design-a-Magnet enquiry for a quote on your custom magnet design.
Neodymium magnets are offered in several different grades. The first section N30-54 has an operating temperature of up to 80 degrees. Most of our stock only goes up to N38. The second section, denoted with the "M" prefix after the grade has an operating temperature 100 degrees. After this the grades are "H", "SH", "UH" & "EH". In order for the magnet to withstand a higher operating temperature, during production more of the raw material PrNd is incorporated as these elements have a naturally occurring resistance to high temperatures.