Samarium Cobalt Block Magnets (SmCo) - 25mm x 15.88mm x 6.35mm
Product code: 88904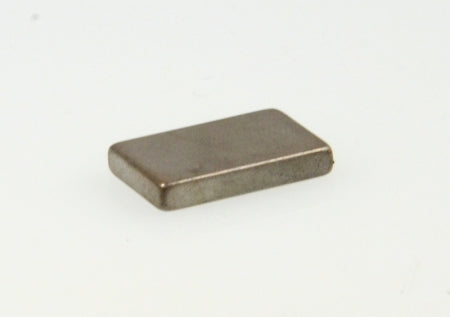 $12.94
buy 10 to 99 items
and
save 10%
$11.44
buy 100+ items
and
save 20%
Australia's Leading Supplier
Samarium Cobalt Block Magnets (SmCo) - 25mm x 15.88mm x 6.35mm
Direction of Magnetisation
Axially magnetised thru the thickness
Dimensions
Width:15.88mm, Height:6.35mm, Length:25mm
Magnetic Product Description:
This samarium cobalt block magnet has a length of 25.4mm and a width of 15.88mm with a thickness of 6.35mm and is the imperial equivalent of 1 inch x 2/3ds x 1/4 of an inch. Identified by the Amf part number 88904.
Uses for our samarium cobalt block magnets:
A compass, first used around 1200AD, was the original block magnet. Rectangular or filaments of a naturally occurring mineral, lodestone, discovered seven hundred years earlier by ancient Greeks, was suspended and allowed to turn from the rigging of Chinese and Viking sailing ships. This block of rock always points north. For the early mariners, and still today, this is a deeply helpful piece of technology.
These types of block magnets, a combination of samarium, cobalt and iron were first produced in 1970 and since that time have been deployed in a wide range of applications across a vast swath of human interests.
These magnets are very strong relative to their size. They are chosen where space is a premium. These spaces include computer disc drives, sensors, satellite systems, tools, toys and trinkets to name a few. Samarium cobalt blocks are also deployed in pickups on stringed instruments.
A pickup device is a traducer, a method of converting variations of one quality into those of another. Installed on guitars and violins, pickups sense mechanical vibrations inside its magnetic field, created when the strings are struck or plucked.
Pickups are able to then convert these captured vibrations into an electrical signal and then amplified to produce musical sound. Samarium cobalt blocks are very strong, need to be handled with care and not allowed to jump at an attracting object.
Used for a large variety of purposes such as in the manufacture of RFID tracking systems, downhole tool systems, general line can maker, tinplate printing and for situations where resistance to salt and corrosive environments is essential.
100%
of reviewers would recommend this product to a friend
NB: Ranges are indicative for product category, please check individual products for specic values within that range.