Samarium Cobalt Cylinder Magnet (SmCo) - 6.35mm x 12.7mm
Product code: 39020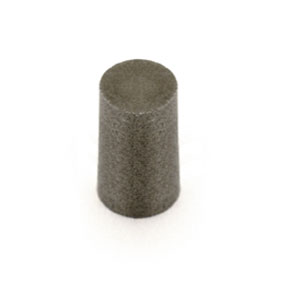 $11.68
buy 10 to 99 items
and
save 20%
$10.29
buy 100+ items
and
save 29%
Australia's Leading Supplier
Samarium Cobalt Cylinder Magnet (SmCo) - 6.35mm x 12.7mm
Direction of Magnetisation
Axially magnetised
Dimensions
Height:12.7mm, Diameter:6.35mm
Magnetic Product Description:
This SmCo cylinder magnet has a diameter of 6.35mm or a quarter inch and a height of 12.7mm or half an inch. It is identified by AMF Part Number 39020.
Uses for our Samarium Cobalt Cylinder Magnets:
For joining, fixing, fastening, holding and release tasks across almost all industries it is hard to fault magnets. These samarium cylinders, along with the rest of the magnet family, are the preferred fasteners of industrial designers, skilled tradespeople, manufacturers' and craftspeople the world over. Why?
Intuition. In product number 39009 I described how the intuitive power of magnets has allowed makers of products to determine the strength of bond required to fasten components. This method simplifies assembly. It also simplifies disassembly for cleaning and servicing with no penalty to surfaces or component parts, unlike other fasteners or glues.
Renewability. In product number 39010 I explained how easily magnets renew their fastening and release functions. A magnet's big advantage in the modern age is the renewability of its power to bond over and over again as if for the first time.
Renewable magnetic bond increases the amenity, serviceability and longevity of material and products fastened in this manner. For reattachment of components simply perform the joyous click, stick and tick routine.
Finally the third most powerful reason magnets are the preferred fixer for the new age is compatibility. Magnets offer plastic fabrications and devices a fastening method that is intuitive, renewable and compatible. Fitting snugly into drill cut voids in moulded plastic forms, magnets offer a seamless hidden or secret fixing method that is safe and secure, permanent and removable. Plastics, use magnets to bond with traditional materials like timber steel and masonry. Magnets, the bridge to the new world.
Used for applications involving transmissions and gear boxes, specialist engineering applications. High temperature resistance.
NB: Ranges are indicative for product category, please check individual products for specic values within that range.