Self-Cleaning Separator Bar Magnet - 150mm | 10K Gauss
Product code: 93111SC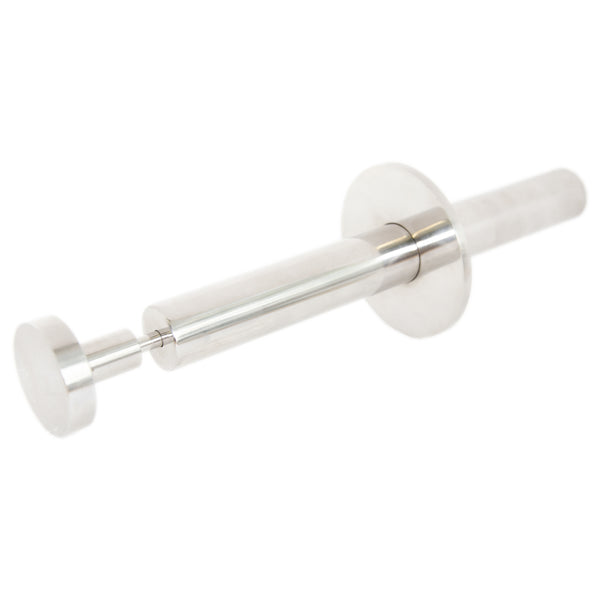 Australia's Leading Supplier
Self-Cleaning Separator Bar Magnet - 150mm | 10K Gauss
Style
320mm Self-Cleaning Separator Bar with 150mm Magnetism Area
Magnetic Product Description:
This Self-Cleaning Separator Bar Magnet is 320mm long, and has a magnetism area of 150mm. Operating similarly to a bike pump, the magnetised area can be released by pulling the handle. With a stainless steel coating, this product is identified by product code 93111SC.
Uses for our Self-Cleaning Separator Bar Magnets:
Industry uses a lot of water, much of it fresh water. Coal mines use huge volumes of water to control coal dust that is known to cause horrible respiratory disease. Huge volumes of fresh water are used in many industries to cool hard working plant and equipment that operates at very high temperatures.
Magnetic separator bars or tube magnets are deployed in filtration assemblies of myriad designs and sizes to recycle water for re-use in many industrial operations.These water purification devices are placed in the path of water suspected of being contaminated with minerals, salts and scale (rust) prior to discharge from industrial, agricultural or commercial operations into storm water infrastructure and natural waterways.
Thanks to the magic of magnetism these separator bars attract, capture and collect waste particles and metallic substances for correct disposal. The use of electromagnetic technology in water filtration enables operators to withdraw the magnetic force from these devices at the flick of a switch for regular and simple collection of waste.
The reason people love metal products, its strength and durability or longevity, is the same reason metallic waste must be removed, often with separator bars, tube magnets and the like. One of the significant problems with metallic fragments is the creation of long lasting blockages that can trigger malfunction in the human body, a truck motor or a storm water drain.
Drinking water and environmental flows, food and beverage production and industrial and manufacturing processes benefit from magnetic separator bars.
Our separator bar magnets are ideal for collecting unwanted swarf and metal pieces.