Self-Cleaning Separator Bar Magnet - 200mm | 10K Gauss
Product code: 93107SC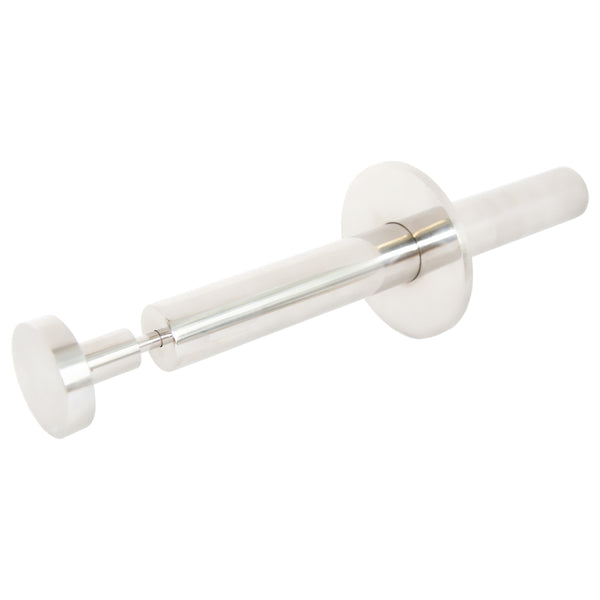 Australia's Leading Supplier
Self-Cleaning Separator Bar Magnet - 200mm | 10K Gauss
Style
420mm Self-Cleaning Separator Bar Magnet with 200mm Magnetism Area
Magnetic Product Description:
This Self-Cleaning Separator Bar Magnet is 420mm long, and has a magnetism area of 200mm. Operating similarly to a bike pump, the magnetised area can be released by pulling the handle. With a stainless steel coating, this product is identified by product code 93107SC.
Uses of Self-Cleaning Separator Bar Magnets:
All manufacturing processes use steel based machinery at one or more stages on the production line and although maintenance and servicing of the plant and equipment are scheduled regularly and carried out with diligence, metal fatigue is difficult to monitor, which means metal contamination in the manufacturing process is inevitable. Tube Magnets, like this one, are found throughout the manufacturing sector where they play an important role in quality control for finished products and also help to protect the plant and equipment that produces them from being damaged by metallic foreign objects. This  Magnetic separator product improves efficiency in recycling plants by collecting and removing ferrous materials from other waste, which can then be reprocessed.
This tubular self-cleaning separator bar contains powerful Neodymium magnets. The magnet is encased in stainless steel, which is non-corrosive and also anti-bacterial which helps to maintain sanitation standards, especially in applications where food processing is involved. This Separator Bar is designed for applications of that kind and has a convenient self-cleaning function. Metal contaminants that collect on the tube can be periodically removed by pulling the handle which causes the magnet to be withdrawn. This shuts down the magnetic hold in the collection area and drags the foreign metal debris toward the collar, where it will collect and fall safely away from the materials being processed. 
This product is available in both 200mm and 100mm lengths to suit different applications