Alnico Rod Magnet - 6mm x 12mm
Product code: 44040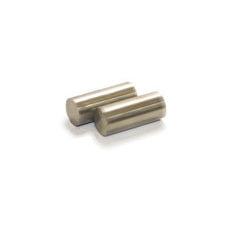 $9.03
buy 10 to 99 items
and
save 15%
$7.99
buy 100+ items
and
save 25%
Australia's Leading Supplier
Alnico Rod Magnet - 6mm x 12mm
Coating
Natural, (uncoated)
Direction of Magnetisation
Axially magnetised
Dimensions
Height:12mm, Diameter:6mm
Magnetic Product Description:
This Alnico rod magnet has a diameter of 6mm and a height of 12mm. It is identified by the Amf magnets part number 44040.
Uses for our alnico cylinder magnets:
Alnico magnets are housed in many sensors like gauges and meters to measure temperature and pressure, as well as volume flows of liquids, powders, grains and minerals. Alnico magnets offer an intuitive or graduated pull and push force over nearby components.
This nuanced magnetic agency enables industrial designers to fabricate sensors of all types that are sensitive, accurate and durable. These sensors are vital for the safe and sustainable monitoring of valuable goods and equipment sometimes operating at very high temperatures.
Alnico magnets have also played a key role in the human love of broadcast or recorded sound. Employed in pick-ups on many instruments in order to modify and amplify sound, alnico magnets and other types of magnets are housed in speakers and other audio equipment to improve signal (good noise) to noise (bad noise) ratios.
The arrival in the 1930's of magnetic tape made possible for the first time pre-recording of performing artists for broadcast over the airwaves that were indistinguishable from live broadcasts of the same artists. The phenomena of the recording artist, and the mass production of music and affordable devices to reproduce the (live sounding) performances had arrived. Bing Crosby a popular American singer of the time, who personally invested in the new technology, was the first of this new type of artist, the recording artist.
Used commonly in for sensing purposes. Popular with specialist engineers. Used when high temperature resistance is necessary.
NB: Ranges are indicative for product category, please check individual products for specic values within that range.
Alnico is most commonly produced by a Casting process. A key feature of Alnico magnets are their high temperature operating limits.