Alnico Rod Magnet - 6mm x 20mm
Product code: 44050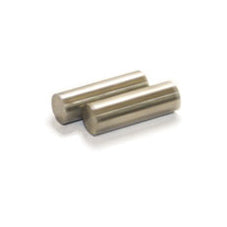 $11.85
buy 10 to 99 items
and
save 14%
$10.67
buy 100+ items
and
save 23%
Australia's Leading Supplier
Alnico Rod Magnet - 6mm x 20mm
Coating
Uncoated (natural)
Direction of Magnetisation
Axially magnetised
Dimensions
Height:20mm, Diameter:6mm
Magnetic Product Description:
This Alnico rod magnet has a diameter of 6mm and a height of 20mm. It is identified by the Amf magnets part number 44050.
Uses for our alnico cylinder magnets:
Alnico magnets housed in gauges, meters and valves help regulate moving parts of these vital sensors. Alnico magnets express a graduating, intuitive and predictable push and pull force over nearby components. These magnets allow industrial designers to create many different types of sensors to keep the wheels of industry turning smoothly.
Birds twittering, tweeting, carolling, chirping and calling are credited with inspiring people to consider the idea that human communication could rise above mere practicalities. Ever since those earliest of times, the human love affair with lyrical language, flights of melodic fancy, poetry, has never slowed. On the contrary, recording those sounds with the assistance of magnets has struggled to keep up.
Magnetism as a medium for recording audio signals (sound) arrived in the 1880's to help out with the human fascination for capturing noise. However, it was not until the arrival of magnetic tape in the 1930's onward that revolutionised the way people embraced recorded sound.
Suddenly, with magnetic tape, alnico magnets and a variety of other magnets to control moving components in audio equipment, people could no longer differentiate between music played live in a studio and broadcast simultaneously, or pre-recorded music played later, over and over again.
In the film, The Sound of Music, Julie Andrews spins around in the Swiss Alps and sings, 'The hills are alive with the sound of music'. She could have added, 'and a lot of it's due to alnico magnets'.
Supplied to specialist multi-disciplined engineering firms and manufacturers. Ideal where high temperature resistance and mechanical strength is needed.
NB: Ranges are indicative for product category, please check individual products for specic values within that range.
Alnico is most commonly produced by a Casting process. A key feature of Alnico magnets are their high temperature operating limits.