Alnico Pot Magnet - 27mm x 25mm | Threaded Blind Hole
Product code: 47130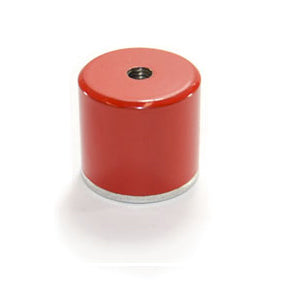 $36.98
buy 10 to 99 items
and
save 14%
$33.32
buy 100+ items
and
save 23%
Australia's Leading Supplier
Alnico Pot Magnet - 27mm x 25mm | Threaded Blind Hole
Direction of Magnetisation
Axially magnetised
Dimensions
Height:25mm, Diameter:27mm
*Measured against up to 10mm mild steel.
Magnetic Product Description:
This Alnico Pot Magnet with a threaded hole has a 27mm diameter and a 25mm height. Our magnetic alnico pot is identified by the AMF magnets part number 47130.
Uses for our alnico pot magnets:
Alnico pot magnets are used in a wide variety of situations, especially where a circular void presents itself. These magnets are placed in voids created by a drill bit in glass, plastics, timber, stone and marble and metal sheeting or metal structures.
Sections embedded with pot magnets in this manner can be connected to other components or frames similarly embedded with similar magnets for a safe and secure bond that is permanent and removable.
Housed in pipes and tubes, or on a spindle, axle or a rod these magnets control moving parts to moderate movement within pre-determined tolerances with a graduating, intuitive force field that delivers smooth and reliable expression of mechanical (force and movement) power.
These pot magnets are taking over as preferred connective tissue in modern fabrications of many kinds. Ideally suited to modern materials like metal, plastics, compressed board and fabrics, pot magnets share a long history with electrical systems and are making the journey as a preferred connective tissue with digital technologies.
Magnetism as a joining or fastening method makes on-site or in situ assembly easy. Disassembly, for whatever reason, servicing, cleaning or changing the contents is made simple with a pain free release at a known pull force. Materials are bonded together by magnetism, not screwed or glued.
NB: Ranges are indicative for product category, please check individual products for specic values within that range.
Alnico is most commonly produced by a Casting process. A key feature of Alnico magnets are their high temperature operating limits.