Flexible Magnet with Foam adhesive - 12.7mm x 12.7mm x 1.5mm | 12 per pack
Product code: RP3000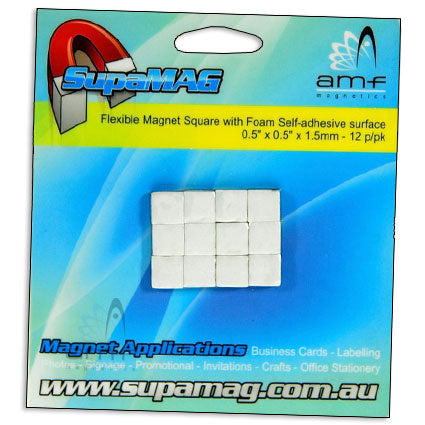 Australia's Leading Supplier
Flexible Magnet with Foam adhesive - 12.7mm x 12.7mm x 1.5mm | 12 per pack
Style
Flexible Magnet with Foam adhesive (12 per pack)
Direction of Magnetisation
Magnetised on the backing side
Dimensions
Thickness:1.5mm, Width:12.7mm, Length:12.7mm
Magnetic Product Description:
Our flexible magnets with foam adhesive have a length of 12.7mm, a width of 12.7mm and a 1.5mm thickness. Each pack contains 12 flexible magnets. They are identified by the Amf magnets part number RP3000.
Uses for our flexible magnets with foam adhesive:
These flexible magnets are perfect for art, craft or school projects. Our flexible magnetic squares with foam back self adhesive are ideal for attaching objects onto steel boards or other metal surfaces. Some applications are: paper to whiteboards, office, crafts.