Magnetic Carabiner Hook - 30mm (D) x 50mm (L) x 5mm (H)
Product code: 88709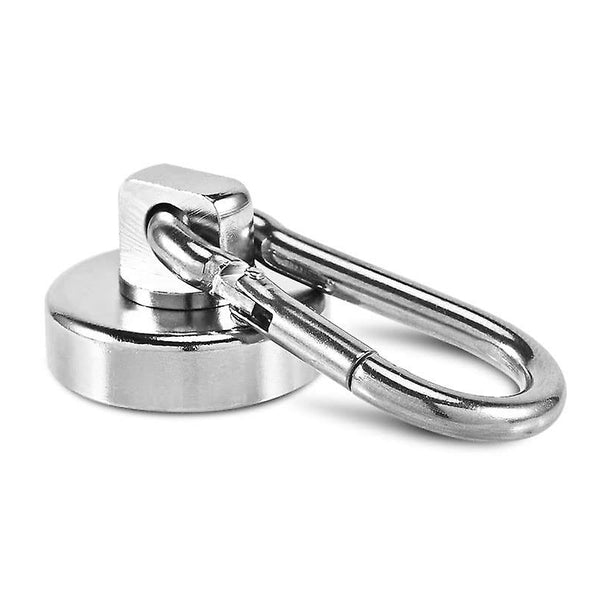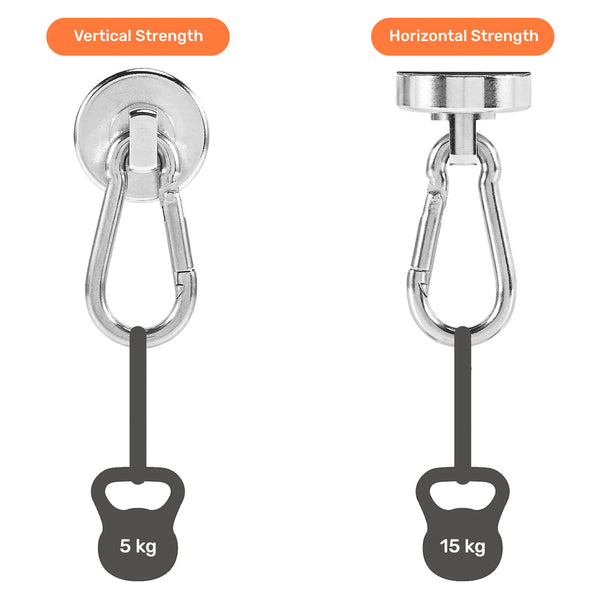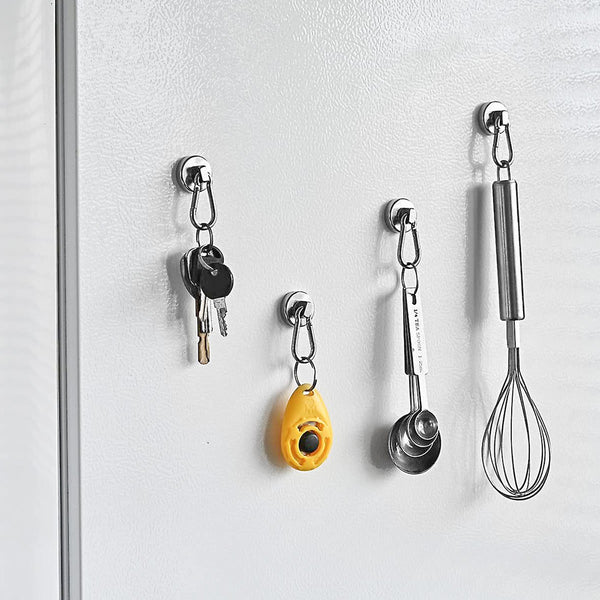 $9.78
buy 10 to 99 items
and
save 13%
$8.94
buy 100+ items
and
save 21%
Australia's Leading Supplier
Magnetic Carabiner Hook - 30mm (D) x 50mm (L) x 5mm (H)
Dimensions
Length:50mm (Including Carabiner), Diameter:30mm
*Measured against up to 10mm mild steel.
Neodymium Carabiner Hook Magnet Description:
This powerful Carabiner Hook Magnet has a 30mm diameter, is 50mm in length, and is 5mm in height. This product has a strong pull force of 15 kilograms against 10mm of mild steel. Please note the vertical strength (5 kilograms) of this product is approximately only one third of its horizontal strength (15 kilograms). This product is identified by AMF Magnetics part number 88709.
This product consists of a carabiner hook attached to a Rare Earth disc magnet encased within a steel cap to protect the magnet from chipping and break due to impact.
Uses for our Neodymium Magnetic Carabiner Hook:
Magnetic Carabiner Snap Hooks may be used indoors or outdoors. They can permanently or temporarily attach to various ferrous metal surfaces such as I-beams, door frames, inventory racks, work shelves, and metal cabinets. All without using nails or screws. This product is great for DIY projects in the home and workshop, or for use in a warehouse.
This Hook Magnet is strong enough to hold and suspend ropes, power tools, wire, cables, and grommets. Organise and keep your workshop/warehouse safe by holding such products out of the way.
100%
of reviewers would recommend this product to a friend
Strong Hold Hanging
Great for hanging leads and items in sheds and shipping containers.
Small and strong
Perfect for hanging things in the wind!
Powerful magnets
Super powerful magnets doing the job to the next level!
| | |
| --- | --- |
| Quality | |
| Ease of Use | |
| Value | |
| Strength | |