Self-Adhesive Round Magnetic Patches | 19mm diameter x 0.6mm | 1,000 Patches Per Pack
Product code: 59043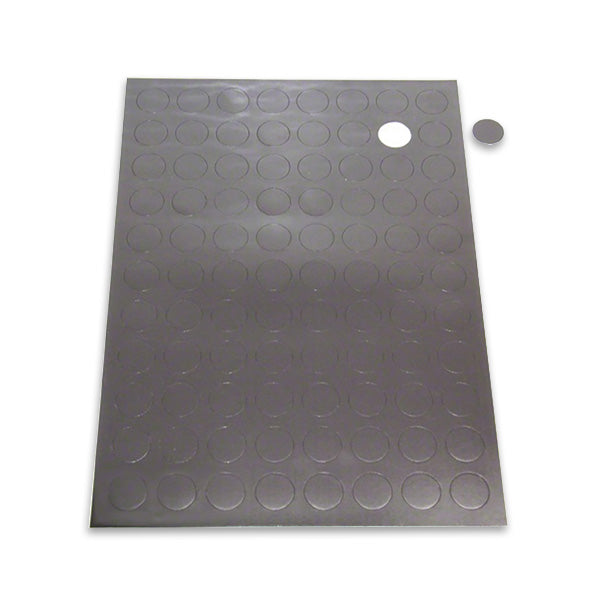 $49.15
buy 10 to 99 items
and
save 7%
$46.49
buy 100+ items
and
save 12%
Australia's Leading Supplier
Self-Adhesive Round Magnetic Patches | 19mm diameter x 0.6mm | 1,000 Patches Per Pack
Style
Magnetic Patch Self-Adhesive (1,000 pieces per pack)
Direction of Magnetisation
Magnetised on one side only
Dimensions
Thickness:0.6mm, Diameter:19mm
Magnetic Product Description:
These self-adhesive magnetic patches have a diameter of 19mm and a 0.6mm thickness. Each pack contains 1,000 patches. They are identified by the AMF Magnets part number 59043.
Uses for our Magnetic Patches:
These round magnetic patches are the perfect workplace visitors and house guests. Easy to apply and easy to remove, they arrive in numbers, each armed with a self-adhesive surface to glue the magnetic segment onto many different kinds of materials including paper, timber, glass, plastics.
Even small samples like tiles, stone, vinyl and fabrics as well as colour charts can be suspended from metallic surfaces, like white goods or metal structures in the office, kitchen, laundry, garage or workshop for inspection and perspective. Heavier items may require a few more of these round patches than calendars, menus or shopping pads.
Health and safety notices, professionally produced or homemade can be suspended on many walls of temporary offices, accommodation and ablution dwellings associated with mining and construction sites.
Many of these signs are required by workplace regulations and laws. Signs suspended by magnetic engagement are cleanly and simply removed at the end of the hire period in order to avoid repair and cleaning fees referred to as 'back charges'.
The vertical interiors of many motor homes, caravans and marine craft are receptive to magnetic cling. Water, plumbing, gas and electricity is distributed, stored and enabled in a different way than at home and a few well-placed notices can save a lot of drama in some far flung places.
Surfaces in these valuable goods are in safe hands with magnetic cling. Magnetic patches, square, round or rectangle always leave a surface as it was found.