Magnetic Pipe Lifter | 600kg Flat Steel | 300kg Cylinder Pipe
Product code: 89132P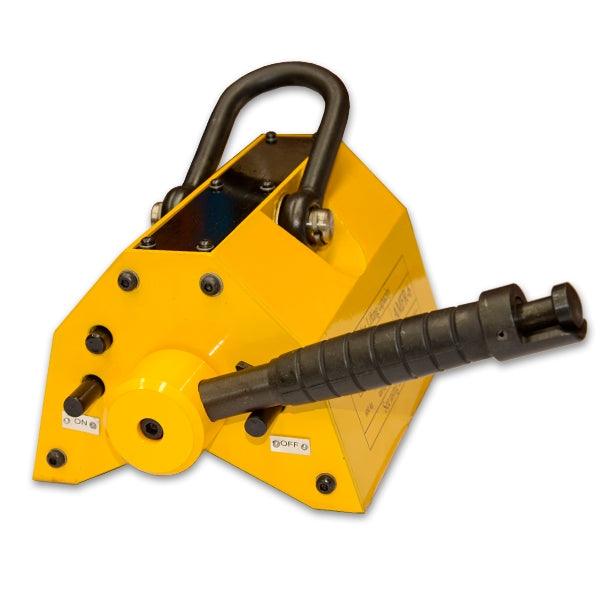 $1,782.07
for 1 to 2 items
$1,498.92
buy 3 to 4 items
and
save 15%
$1,402.34
buy 5+ items
and
save 21%
Australia's Leading Supplier
Magnetic Pipe Lifter | 600kg Flat Steel | 300kg Cylinder Pipe
Style
600kg against 25mm minimum thickness steel or 300kg against 25mm minimum thickness curved steel pipe
Dimensions
Width:190mm, Height:250mm, Length:278mm
Magnetic Product Description:
This 600kg Powerful Magnetic Lifter has a length of 278mm, a width of 190mm, a base height of 140mm height, and a height of 250mm including the shackle. It is identified by the AMF Magnets part number 89132P. Important: this magnetic lifter is rated at 600kg against a minimum of 25mm thick flat steel or 300kg against a minimum of 25mm thick curved steel pipe. Please contact us for further information about this product.
AMF Magnetics' ranges of high strength magnetic lifters are produced with super strong Neodymium magnets, with your safety in mind. Operation is by way of turning the manual handle once on the operating surface. Magnetic Lifters are a versatile, cost effective and convenient way of loading, unloading and moving steel plates, blocks or cylinders in a safe manner.
Uses for our powerful Magnetic Pipe Lifters:
Ideal for lifting in factories, docks, warehouses, and transportation or engineering workshops, AMF Magnetics Magnetic Lifters are ingeniously constructed for ease of application and have a strong magnetic path supplied by NdFeB magnetic materials. On and off the magnetic path is controlled by turning the handle. A shackle on top of the Magnetic Pipe Lifter for lifting, and a V-shape slot on the bottom for holding a cylindrical component firmly.
The modern preference for using steel instead of timber or masonry, means lifting and carrying methods have changed. Magnetic lifters help manage the risk and cost of dragging, lifting and carrying steel fabrications of all shapes and sizes. Loved for its price, strength and longevity, steel is very heavy and presents handling hazards. Construction, mining, agriculture, shipping and manufacturing sectors are big users of steel. Deploying magnetic lifters in conjunction with all types of rigging technologies reduces the risk of work place injury when moving metal products.
Magnetic lifters hooked up with rigging technologies like traditional chain or electrical powered block and tackle assemblies, truck mounted hydraulic powered cranes, demountable construction site cranes and hoists embedded in factories and workshops reduce the drama inherent in moving steel fabrications. Magnetic lifters allow a single person to lift, shift and release with the devices fail safe lever, large quantities of very heavy goods from a safe distance. Using magnetic lifters removes the need to encircle a load, reducing the risk of crush injuries. Magnetic lifters subject the surface or crown of a steel object to brute force magnetic suction or cling, protecting the product with release at their known capacity in the event of a snag that might otherwise damage more valuable equipment.
---
 

Flat Steel

Cylinder Pipe

Product Description

Graph

Key

AMF Product Code

Rated Lifting Strength

(kg)

Safe Factor

Minimum Diameter

(mm)

Rated Lifting Strenth

(kg)

Safe Factor
Minimum Diameter (mm)
6000kg Pipe Lifter
A
Contact our office
6000
>3
100
3000kg Pipe Lifter
B
Contact our office
3000
>3
80
1200
>3
250
2000kg Pipe Lifter
C
Contact our office
2000
>3
60
1000
>3
200
1000kg Pipe Lifter
D
Contact our office
1000
>3
50
500
>3
150
600kg Pipe Lifter
E
89132P
600
>3
40
300
>3
100
300kg Pipe Lifter
F
89131P
300
>3
40
150
>3
100
100kg Pipe Lifter
G
Contact our office
100
>3
40
50
>3
80