Neodymium Block Magnet - 12.7mm x 6.35mm x 50.8mm | N35
Product code: B-W12.7H6.35L50.8-N35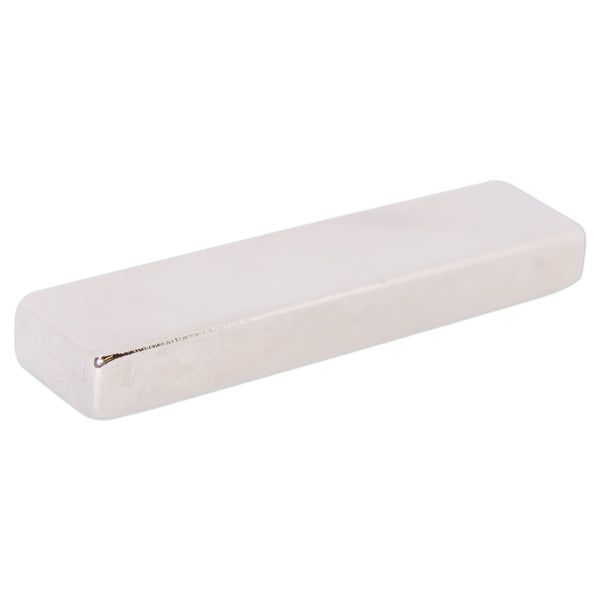 Australia's Leading Supplier
Neodymium Block Magnet - 12.7mm x 6.35mm x 50.8mm | N35
Product Code
B-W12.7H6.35L50.8-N35
Direction of Magnetisation
Axially (through height)
Dimensions
Width:12.7mm, Height:6.35mm, Length:50.8mm
*Measured against up to 10mm mild steel.
Magnetic Product Description:
This Rare Earth block magnet has a length of 50.8mm, a width of 12.7mm and a thickness of 6.35mm. This magnet has a pull force of 11.29 kilograms. It is identified by the AMF magnet part number B-W12.7H6.35L50.8-N35.
Uses for our Neodymium Block Magnets:
The range of applications best suited to Neodymium magnets is extensive and in many cases, these magnets are the only viable option for engineers and industrial designers wanting to achieve the performance or outcomes they require. The exceptional power of the rare earth magnetic material inside the silvery Nickel-based coating has increased the capabilities and broadened the range of products that are created by manufacturers. AMF stocks a huge range of Neodymium Block magnets to suit almost any requirement and also provides the option of custom made magnets for more specialised needs (lead times apply for custom magnets). Whether of square or rectangular shape, Neodymium Block magnets generate the necessary power to guarantee a secure hold under even the most demanding pressures and conditions. Neodymium magnets are becoming increasingly popular with domestic users for bonding all sorts of materials together, both inside the home and for outdoor areas. Cushions, coverings, sunshades, privacy screens and almost anything else can be enhanced or transformed into a more practical accessory with the addition of Neodymium block magnets that bond with steel frameworks to keep them in place. This strong Neodymium block is interchangeable with applications requiring 2′′x1/2′′x1/4′′ imperial dimensions.