Neodymium Countersunk Ring Magnet - 25mm (OD) x 10mm (H) | Countersunk 12mm/6mm (ID) | N38 | SOUTH
Product code: 23005BSth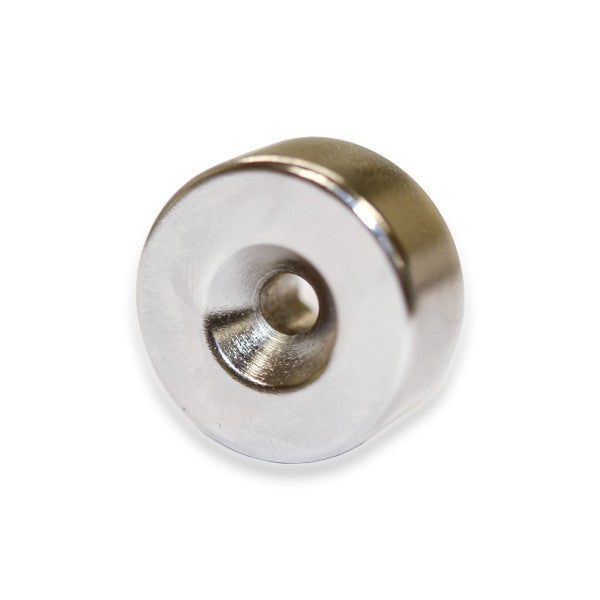 $19.49
buy 10 to 99 items
and
save 10%
$17.19
buy 100+ items
and
save 21%
Australia's Leading Supplier
Neodymium Countersunk Ring Magnet - 25mm (OD) x 10mm (H) | Countersunk 12mm/6mm (ID) | N38 | SOUTH
Style
Countersunk Rare Earth Ring Magnet
Direction of Magnetisation
Axially magnetised thru the 10mm
Dimensions
Outside Diameter:22mm, Inside Diameter:12mm/6mm, Thickness:10mm
*Measured against up to 10mm mild steel.
Magnetic Product Description:
This Rare Earth Countersunk Ring Magnet has an outside diameter of 25mm, an inside diameter of 12mm to 6mm and a thickness of 10mm. It has a pull force of 15.8kg. It is identified by the AMF magnet part number 23005BSth.
Uses for our Rare Earth Countersunk Ring Magnets:
Lifts or elevators became necessary once buildings became so high that staircases were no longer a reasonable method of getting to the upper levels. Lift designers, since the earliest incarnation of the concept, so called dumb waiters, a lifting platform between the levels of houses for the carriage of food and drink, have been perfecting their craft with the assistance of magnets.
Neodymium ring magnets, 25mm x 10mm, engaged with the winches, pulleys and cables, secure the lift car at all times and help regulate the movement of these moving parts in order to deliver a safe and smooth ride.
Magnets engaged on the different platforms at each floor help secure the car in the correct position. Attracting and holding the car with magnetic force without a committed locking or piercing engagement is quicker and more reliable method of hold and release. Modern lifts are safer quicker and smoother with the help of magnets.
Tension and compression systems within large scale constructions projects embed ring magnets like these in order to increase the flexibility and durability of the buildings.
Strong ring magnets like these, 25mmx10mm with a pull force of 15.8kg are used to help hold and or regulate movement, release at a predetermined pull force, and or re-engage or hold again, moving parts. Sometimes threaded onto a spool or axle or rod, ring magnets, as well as regulating movement of nearby moving parts, also contain or compress moving parts that might otherwise drift from their allotted positon and damage or otherwise reduce mechanical efficacy.
The amount of magnetic force needs to be such that it can contain or compress the moving parts negating drift, but not so strong as to suppress movement necessary for efficient mechanical function. The known pull force or magnetic strength of a particular magnet allows engineers and others to design sophisticated equipment that is reliable and durable.
Magnets project their power without a restricting locking engagement, allowing mechanical parts to move at regulated intervals, releasing at a pre-determined pull force or within acceptable tolerances. Other engagement or fastening methods struggle for these highly desirable and nuanced capabilities.
These powerful ring magnets are in constant demand, most often in the mining, transport and grain processing sectors.
100%
of reviewers would recommend this product to a friend
Great product
Received in a couple of days
NB: Ranges are indicative for product category, please check individual products for specic values within that range.
The most common coating for Neodymium magnets is Nickel + Copper + Nickel (Ni + Cu + Ni). This coating offers the magnet relatively good protection from corrosion and passive applications. If the magnet will be exposed to moisture or liquid then consider the use of an organic coating such as Epoxy. A hard wearing coating, Epoxy is suited to applications where the magnet will come under some friction or knocking.
Magnets are readily available in Blocks, Discs, Cylinders & Rings. AMF Magnetics specializes in the supply of short-run prototype magnets including Arc Segments, various magnetic orientations etc. If you need a magnet size that we don't carry in stock, submit a Design-a-Magnet enquiry for a quote on your custom magnet design.
Neodymium magnets are offered in several different grades. The first section N30-54 has an operating temperature of up to 80 degrees. Most of our stock only goes up to N38. The second section, denoted with the "M" prefix after the grade has an operating temperature 100 degrees. After this the grades are "H", "SH", "UH" & "EH". In order for the magnet to withstand a higher operating temperature, during production more of the raw material PrNd is incorporated as these elements have a naturally occurring resistance to high temperatures.