Neodymium Disc Magnet - 6mm x 1.5mm
Product code: 20078
Best Seller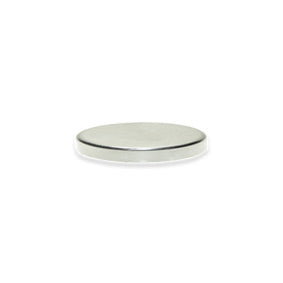 $0.44
buy 100 to 999 items
and
save 27%
$0.40
buy 1000+ items
and
save 34%
Australia's Leading Supplier
Neodymium Disc Magnet - 6mm x 1.5mm
Style
Rare Earth Disc magnet
Direction of Magnetisation
Axially magnetised
Dimensions
Height:1.5mm, Diameter:6mm
*Measured against up to 10mm mild steel.
Neodymium Rare Earth Disc Magnet Description:
This Rare Earth disc has a diameter of 6mm and a height of 1.5mm. These proportions allow an extremely strong magnetic field. This disc magnet has a nickel coating for effective corrosion resistance. The powerful Rare Earth Magnet has a magnetic flux reading of 2818 Gauss and a pull force of 400 grams.
Uses for our Strong Neodymium Disc Magnet:
Industrial designers use this super strong Neodymium 6mm x 1.5mm disc magnets to create officer furniture, textiles and tools. A seamless alternative to the common screw, disc magnets constitute a vital part of the industrial designer's trade secrets.
Discreet fixing or hidden joining of many different materials has taken hold across many design disciplines and applications. This strong Magnetic Disc can reliably and durably hold through different materials, without piercing or spoiling on contact the materials themselves.
This small Neodymium Magnetic Disc also plays an important role in creating durable, compact and efficient commercial or craft packaging. This magnet can create a simple, yet appealing fastener for all types of packaging.
These small magnets are also used to devise different health delivery systems and gadgets. See our story on our blog about a local doctor fashioning his own medical instruments using small magnets.
100%
of reviewers would recommend this product to a friend
Happy with my purchase
Nice product and fast delivery
Reviewed by Puddles of Colour A.
I recommend this product
Great info and fast service
Love the information available on the AMF website. It allowed me to find the right magnets for my projects and buy in small quantities to test. Fast and efficient service too!
Very satisfied
Good strong product with excellent swift service.
Great to deal with
Very impressed, have some more magnets I need, impressed by the quality and AMF is my first point of call no question, cannot speak highly enough.
Great magnets
Great small magnets with strong magnetic field. Quick delivery, product as advertised.
NB: Ranges are indicative for product category, please check individual products for specic values within that range.
The most common coating for Neodymium magnets is Nickel + Copper + Nickel (Ni + Cu + Ni). This coating offers the magnet relatively good protection from corrosion and passive applications. If the magnet will be exposed to moisture or liquid then consider the use of an organic coating such as Epoxy. A hard wearing coating, Epoxy is suited to applications where the magnet will come under some friction or knocking.
Magnets are readily available in Blocks, Discs, Cylinders & Rings. AMF Magnetics specializes in the supply of short-run prototype magnets including Arc Segments, various magnetic orientations etc. If you need a magnet size that we don't carry in stock, submit a Design-a-Magnet enquiry for a quote on your custom magnet design.
Neodymium magnets are offered in several different grades. The first section N30-54 has an operating temperature of up to 80 degrees. Most of our stock only goes up to N38. The second section, denoted with the "M" prefix after the grade has an operating temperature 100 degrees. After this the grades are "H", "SH", "UH" & "EH". In order for the magnet to withstand a higher operating temperature, during production more of the raw material PrNd is incorporated as these elements have a naturally occurring resistance to high temperatures.