Neodymium Pot Magnet - Diameter 36mm x 7.6mm | M4 Internal Thread
Product code: AMFYPH36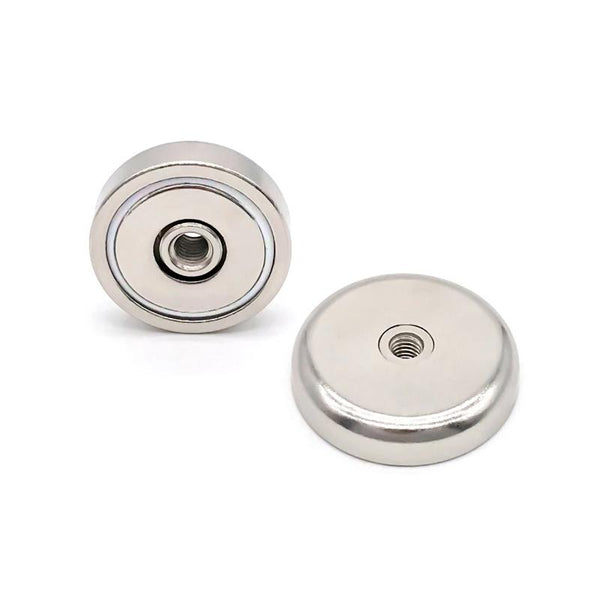 $13.66
buy 10 to 99 items
and
save 14%
$11.48
buy 100+ items
and
save 28%
Australia's Leading Supplier
Neodymium Pot Magnet - Diameter 36mm x 7.6mm | M4 Internal Thread
Dimensions
Outside Diameter:36mm, Height:7.6mm
*Measured against up to 10mm mild steel.
AMF Magnetics stocks a wide range of Neodymium Pot Magnets with Female Thread for Holding purposes. Some of these holding purposes include - POS, Retail and Signage, Warehouse and Industrial use, The magnets can be ideal for use on Doors, Gates and Latches or used for Fishing and Marine use. Using our Holding Pot Magnets for these jobs is easy thanks to the pre-drilled threaded hole to attach to another surface with a bolt. When combined with an eyelet, a rope can be attached to create a metal retrieval tool that can reach hard to access sites or underwater areas. Similarly, a threaded hook attachment with this magnet means cables and wiring can be suspended from metal frameworks and surfaces for a permanent or temporary magnetic solution. These strong and high quality magnets are made from a Neodymium Rare Earth permanent magnet, which is encased in either nickel or Santoprene rubber proactive casing. This Magnetic Pot Holder is a high strength, single-sided magnet with a powerful holding force of 24kg, with a diameter of 36mm and height of 7.6mm.
This magnet is a highly effective holding device with the magnetic field at the base being South in orientation. It is also versatile and can be used to create different assemblies and configurations to suit different projects.
This Neodymium Pot Magnet has a diameter of 36mm, and a height of 7.6mm. It has an M4 internal thread and a pull force of 24 kilograms. This Product is identified by AMF Magnetics Product Code AMFYPH36, and is sold per magnet.